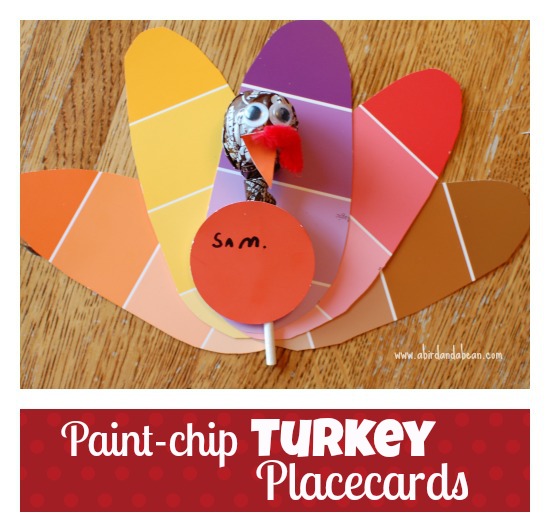 The kids and I had so much fun making these cute Paint-chip Turkey Thanksgiving Place Cards.  There's just something about Thanksgiving that makes me want to get crafty on some place cards.  It's deep seeded in my DNA, I think.  Since this is such a simple and inexpensive craft idea for Thanksgiving, I knew you would love it too!
Paint-chip Turkey Thanksgiving Place Cards
We made these awesome Indian Corn Place Cards with bubble wrap a few years ago and we also made these adorable Toilet Paper Owls into Place Cards.  But these have all seen better days.  It's time for a new place-card project.  But, it also has to be free or low cost.  Toilet paper tubes and bubble wrap were simple and free.
I decided on paint chips.  FREE.  I made a trip to the hardware store to collect our turkey feathers.  As I was checking out, I saw a bucket full of Tootsie Pops.  They were 10 cents each.  I decided I could splurge and spend 2 bucks on Tootsie Pops to use as our turkey heads!  🙂  Perfect for a simple and super cheap Thanksgiving place cards craft the kids would love making!
I just love the way they turned out.  The kids LOVED making them.  They're going to look so cute and festive on our table tomorrow.  And everyone gets to take a Tootsie Pop for the road.  Sweet!
I'm planning on making everyone write what they are thankful for on the first feather.  Then, next year we can just add new Tootsie Pop heads and then fill out a new feather each year for 5 years.  It will be cool to see what people are thankful for each year and how it changes.  Whatcha think?  And without the heads, they fold up nice and little and flat, so they can be stored easily, even in an envelope!
You still have time to make some!  Get to the hardware store!  😉
You can even get the supplies and have the kids make them DURING Thanksgiving.  Craft time at the kids table!
Happy Thanksgiving!
Supplies: 
Paint chips
brads
google eyes (or a marker)
Red pipe cleaner or yarn cut into 1/2 inch lengths ..for wattle.
hole punch
glue
Circle punch (or just trace a cup and cut them out)
Tootsie Pops (or other lolly)
Directions: 
Gather supplies.  Cut out a feather shape from each paint chip.  We used 5 feathers for each turkey.
Punch one hole in the bottom of each feather.
Cut out a circle for the body.  Hole punch three times.  One for the brad and two to hold the lollipop.  (You could use all the same size hole punch for this, but we had a small and regular, so we used the small one for all the brad holes.)
Assemble in this order….Brad, body, 5 feathers.  Close brad.
Cut triangles from the orange paint chips for a beak.  Glue eyes, beak and wattle onto lollipop.
Cut new circles for body, to write the names on.
Write a name on each circle.
Secure the lollipop by threading the stick through the top two holes of the first body, that is connected to the feathers.
Glue the new body circle with the name written on it over top of the body that is holding the lollipop.
DONE!
I am a huge fan of easy crafts and this Thanksgiving place cards idea using paint chip cards is definitely a favorite.  Not only does it work great to occupy your kids, you can easily add it into your homeschool routine and talk about turkeys, color recognition and more!
More Thanksgiving Crafts: