Have you ever had those yummy little ranch crackers?  You know the ones, made out of oyster crackers?  Like Chex Mix, kind of.  (For some reason they're always around the teacher's lounge and office parties at Christmas time.)  They're so good.  They're an addicting little snack.
I love buffalo sauce.  Really L.O.V.E. it.  I know lots of people share my sentiment   I once had a friend who said she would eat a stick from the yard if it had buffalo sauce on it.  I feel the same way.
I thought ….. I wonder what would happen if I combined those two things, ranch cracker and buffalo sauce.  Hum.  Buffalo stuff goes great with ranch, so it seemed only natural.  Well, it was a GREAT idea.
You must try these!  They are an easy snack for any party or cookout or get together.  Spicy, but not too spicy.  A nice little kick.   You get the full buffalo flavor without deep frying anything!  Oh yeah.
You could even pack them up in a pretty glass jar as Father's Day gifts.  Smart!!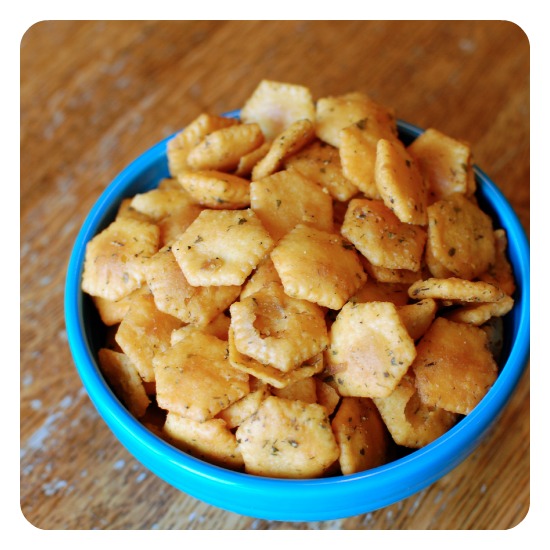 Baked Buffalo Ranch Crackers
What you need:
1 (10 oz) package ranch dressing mix

1 box or bag oyster crackers
1/4 melted butter
salt to taste
pepper to taste (i used lemon pepper, because I was out of regular pepper!)
1/2 teaspoon of dill (optional)
1/4 cup Frank's Hot Sauce  (you could add more or less depending on how HOT you want them!)
What you do:
Preheat oven to 250°.
In a large mixing bowl, combine ranch mix, butter, hot sauce and salt, pepper and dill.   Mix well.
Stir in oyster crackers mix to coat.
Pour crackers onto a large cookie sheet.
Bake 15 minutes, stirring every 5 minutes or so.
Cool and store in a covered container.  Eat 'em up!