What a strange thing to "re-do".  The linen closet.  But, it was driving me insane.  I couldn't take it anymore.  It was so full and disorganized that every time I did laundry I had to actually shove towels and sheets back into little crevices with force until they stayed and then quickly slam the door before an avalanche occurred.  Something had to be done.  I don't even know how it got that way.
I took myself to the dollar store and bought 10 baskets.  I might have been tempted to go to the container store if it were closer.  But then again,  I wouldn't have been able to do the whole closet for 10 bucks!  😉  I also would have liked to buy all 10 baskets in one color, but my dollar store only had 6 matching ones left, so I went with two colors.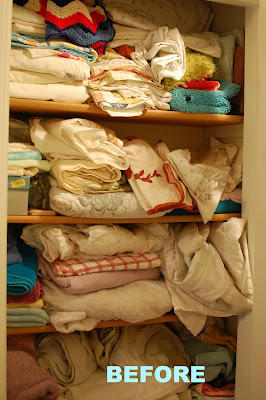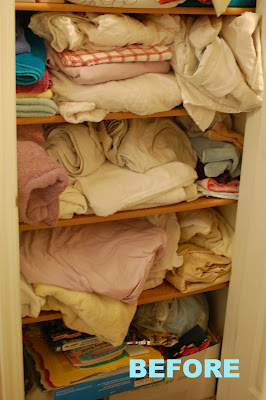 How embarrassing.
There are 5 shelves in there somewhere!
The first thing I did was take EVERYTHING OUT!
Oh there are the shelves!
And here is all the junk I pulled out of it!
The pile was taller than my children.
Ridiculous.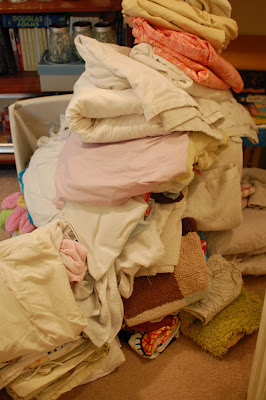 I re-folded everything and organized it all into categories.
Below is the pile of stuff that I got rid of!  Seriously.
There are several sets of sheets in there for a bed size that I haven't even owned in three years!
And here is the after!
ahhhh.
I love it.  Everything has a place.
I labeled the baskets with tags and string.
It looks so nice, and all for 10 bucks.
To be fair there are 11 baskets, but I already owned one.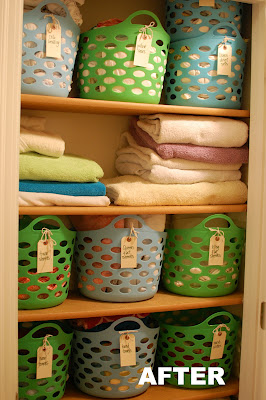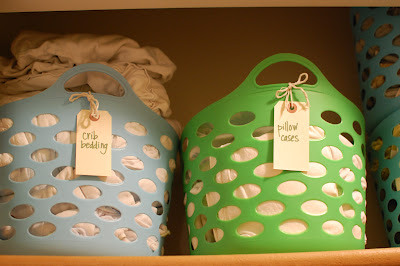 Spring cleaning commenced….
I have heard from many people that their Dollar Tree doesn't always carry these baskets.
You can get similar ones here.
It's a three pack and you don't have to even leave your house!  🙂
This post may contain affiliate links.