I saw this little beauty while browsing around the world wide web the other day.  Thanks Food Network.  YUM.
Kevin would seriously eat BLTs every day.
And he loves pasta salad.
So, I thought this was a perfect recipe.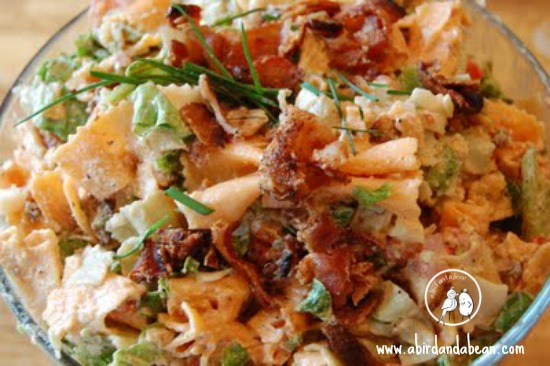 We celebrated Father's Day a week early this year.
So, I made this Healthy BLT Pasta Salad for our family Father's day cookout yesterday.  It was great!  I used bow tie pasta.  (ya know….for father's day….haha)
I cooked them al dente', but they still got kind of broken up when I tossed the ingredients together.  I was as gentle as I could be, which if you know me isn't very gentle!  🙂  Maybe the corkscrew recommendation in the recipe would hold up better.  It still tasted amazing!  I also used half as much mayo and added Greek yogurt instead.  I might not add the lettuce next time and just put the pasta salad over lettuce as a meal.
We ate the left-overs today and it was still great.  But the lettuce would be more crisp if I did it that way. I thought it was interesting that the recipe called to saute the tomatoes.  It was a nice addition.  I actually really liked the way it tasted warm right after adding the tomatoes.
Warm, cold, room temp, fresh, left-overs….so many options.  🙂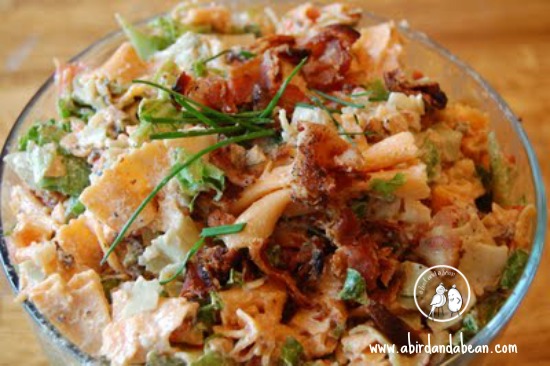 BLT pasta salad
Author:
This pasta salad is so good. It's good warm, or cold. I like adding greek yogurt with the mayo to make it a little more healthy.
Ingredients
12 ounce corkscrew shaped pasta
1/2 cup milk
12 ounces lean bacon
4 medium ripe tomatoes, cut into chunks
1 tablespoon chopped
fresh thyme
1 clove garlic, minced Kosher salt and freshly ground pepper
1/4 cup mayo
1/4 cup greek yogurt
1/4 cup sour cream
4 tablespoons chopped chives
5 cups chopped romaine hearts
Instructions
Cook the pasta in a large pot of salted boiling water according to package.
Drain and toss with the milk in a large bowl; set aside. Crazy to toss it with milk. You won't be sorry.
Cook the bacon in a large skillet over medium-high heat until crisp. Drain. Discard drippings, but reserve about 3 tablespoons of drippings from the pan.
Add the tomatoes, thyme and garlic to the pan and toss until warmed through; season with salt and pepper.
Crumble the bacon, set aside 1/4 cup for garnish. Toss the remaining bacon and the tomato mixture with the pasta.
Mix the mayonnaise, greek yogurt and sour cream with 3 tablespoons chives with the pasta until evenly combined. Season with salt and pepper.
Add the lettuce; toss again to coat.
Garnish with the reserved bacon and the remaining 1 tablespoon chives.
Serve at room temperature. Or chilled the next day. Refrigerate leftovers. If there are any.
Posts on A Bird and A Bean may contain affiliate links.