Are you hosting Thanksgiving this year?  Got kids?  Well, then check out my list of 15 Ways to Make Thanksgiving Fun for Kids!    I'm not hosting the meal this year, actually, but I'll be bringing some of these goodies to my mom's house with me, for sure.  It's good to make the hosts life a little easier!
15 Ways To Make Thanksgiving Fun For Kids
I just love Thanksgiving!   It could be chilling out and hanging out with family and watching football.  Nope.  It's the stuffing.  It's all about the stuffing for me.  🙂  The kids may prefer this list of ways to make Thanksgiving fun for them instead of stuffing!
And ps….I think that Little People set is about the cutest thing and I am crying a little that my kids don't want to play with Little People anymore.  *tears*  Luckily the LEGO set is just about as cute and they still love LEGOs!!  🙂
Fun at the Farm, Seek and Play Puzzle
Seek and Play Puzzles are excellent educational tools that encourage logical thinking. Each puzzle contains 24 pieces, a full-color mat, and an eight-page resource guide. Once completed, the learning fun continues with 48 activity cards, cross-curricular questions, and thought-provoking writing prompts.  For younger guests, this can bring tons of Thanksgiving fun.
Little People Thanksgiving Celebration

Celebrate the story of the very first Thanksgiving with this new Little People® holiday play set! A pair of playful pilgrims and two trusty Indian friends gather 'round the table to give thanks together for a fantastic fall feast! Thirteen-piece set includes four Little People figures, table and two benches, turkey platter, horse and detachable cart, pumpkin, and two connectable harvest fence pieces. (Manufacturer recommended age: 12 months and up)
Thanksgiving includes the story behind how the Pilgrims met the Native Americans and taught each other the different ways of living. Also included games, puzzles and mazes An approved Teaching and Learning Tool. Notebook style book with a colorful plastic spiral binding. At least 24 pages in every Power Panel Coloring Book, hours of coloring fun with games, puzzles, mazes and connect the dots, word search and a heavy chip board backing. This is a perfect 'Travel Size' coloring book on a plane, train or in an automobile. These fun books are 8.5 x 11 with a high quality full color card stock cover. Each inside page is a high bright white paper that children can use crayons, colored pencils, magic markers and even water colors on!  Perfect for hours of Thanksgiving fun while adults watch football or drink coffee!
Got Turkey? Infant & Toddler Cotton T-Shirt

5.5 oz. 100% cotton jersey (Ash is 99% cotton, 1% polyester; Heather is 90% cotton, 10% polyester). Ribbed crew neck. Taped shoulder-to-shoulder. Double-needle hem sleeves and bottom. White is sewn with 100% cotton thread. Printed on Front of T-Shirt. Very vibrant print. Won't peel or crack in washer/dryer.
Webkinz Thanksgiving Turkey Plush Animal

This forest-dweller has a soft spoken and gentle nature. It loves to spend time outdoors gardening and tending to its crops! When the talented Turkey is not occupied by its green thumb, it likes to enjoy the autumn breeze while relaxing on the Harvest-Time Hammock! Special Item: Harvest-Time Hammock; Special Food: Forage Porridge. Webkinz pets are lovable plush pets that each come with a unique Secret Code. With it, you enter Webkinz World where you care for your virtual pet, answer trivia, earn KinzCash, and play the best kids games on the net! Collect them all!
Foam Handprint Turkey Craft Kit Thanksgiving Kids Activity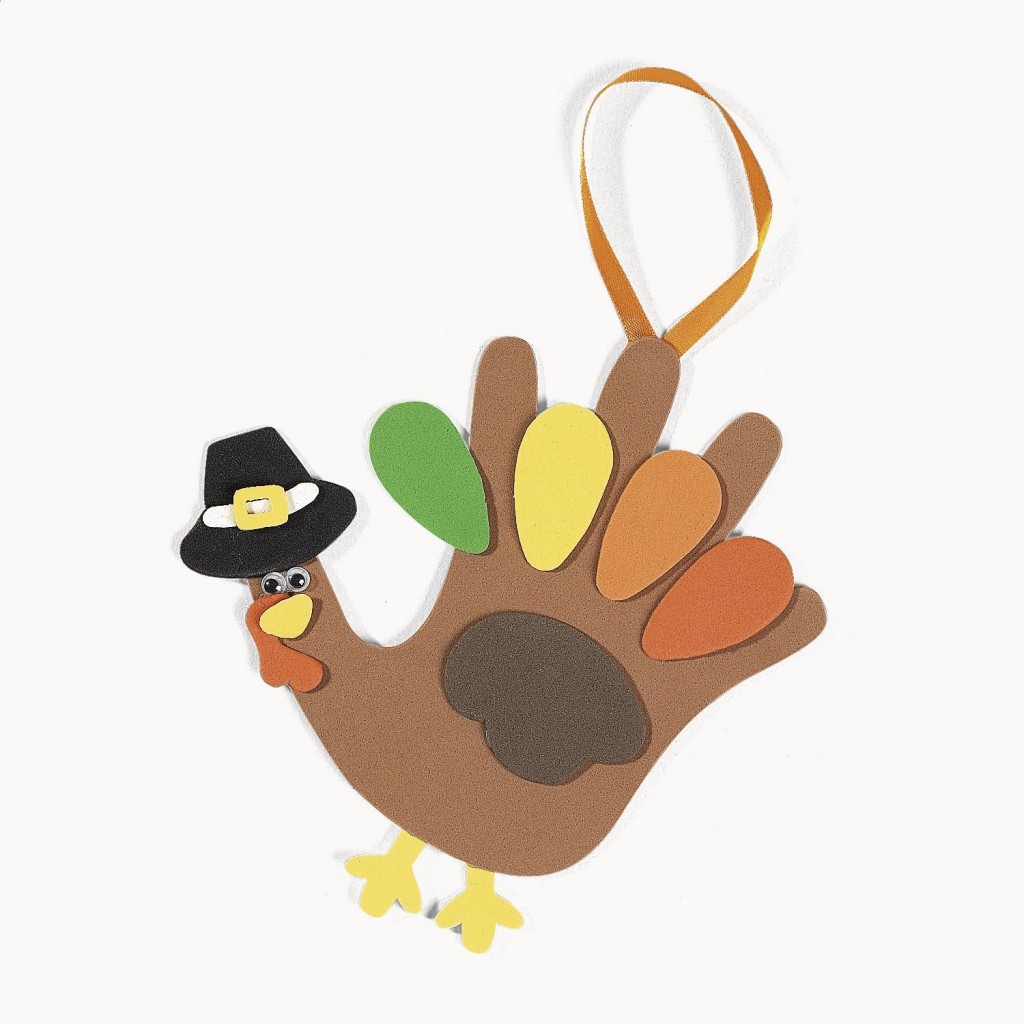 Trace each child's hand on the foam and cut out the shape to create the turkey. Other pieces pre cut. Foam Piece measures 6″.
"Thanksgiving Jokes" is a feast and a "corny-copia" full of funny short jokes for kids. Each joke is about some silly aspect regarding Thanksgiving, from turkeys to pilgrims to pumpkin pie. Kids will gobble up these humorous and short jokes while they look at the funny illustrations throughout the book. Every joke features two illustrations; one for the question and one for the punchline, so each joke can be enjoyed even more. Find out what a pilgrims favorite music is, what a space turkey says, why turkeys go 'Gobble, gobble', and many more silly riddles.  Tons of Thanksgiving fun in this great book of jokes!
Rubber Duckie Ducky Thanksgiving Ducks
Each ducky measures approx. 2″ x 2″ x 2-1/2″H. They do not squeak but do have a hole in their beak for squirting water. These make great little decor pieces for your kids' table or dessert tray at Thanksgiving time. Great to use as party favors for your dinner guests. They do not float upright. (Manufacturer recommended age: 3 years and up)
Gund Priscilla & Plymouth Pilgrim Set of 2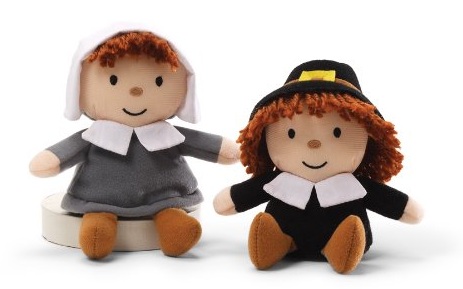 Girl and Boy Pilgrim Beanbag Set, polyester Blend, Plastic Beads, 6in H x 3in W x 3in L, Ages 1+
LEGO Seasonal Set ~ Thanksgiving Feast
Thanksgiving Coloring Placemats (24) Party Supplies
Sihu doll includes American Indian dress, boots, feather hair band, hair ties, and American Indian necklace. Sihu also has a baby that rests in a papoose.
Fisher Price Harvest Hayride Fall Playset
Join farmer Sonya Lee and scarecrow EddieTM on a harvest hayride full of fun. Hitch the wagon to the free-wheeling tractor to see the pumpkin spin round 'n round and a peek-a-boo friend pop up and down as it rolls along! Seven-piece play set includes tractor, wagon, two figures, and a bountiful fall harvest; apples, hay and corn!
The Berenstain Bears Thanksgiving Blessings
The Berenstain Bears Thanksgiving Blessings Ride along with the Bear family on Thanksgiving Day as Brother and Sister learn about all the things they—and YOU—can be thankful for … including faith, family, and the huge feast waiting for them at the end of their journey to Gramp's and Gran's. Includes a sheet of colorful stickers featuring the whole Bear family.
Adorable Kinders 18 Piece Thanksgiving Paper Dolls Set

This 18 piece thanksgiving set includes 8 Adorable Kinders Paper Dolls (4 boys and 4 girls), 2 pilgrim boy outfits, 2 pilgrim girl outfits, 2 indian boy outfits, 2 indian girl outfits, 1 restickable glue stick and 1 blunt tip scissors. The paper dolls are made of a durable UV coated card stock and come with a foot stand. They are perforated for easy removal and assembly. The accessories outfits require scissors cutting and may be attached to the dolls using the restickable glue for reuse as in dress-up play, or using permanent glue for single use such as scrap booking, greeting cards, and other arts and crafts projects. The paper dolls and their outfits are made in USA.
Reminder:  This post may contain affiliate links or sponsored content.  By using these links you are supporting this site and I appreciate it.  Please see my full disclosure policy for more information and thanks for visiting.
More Thanksgiving Ideas: