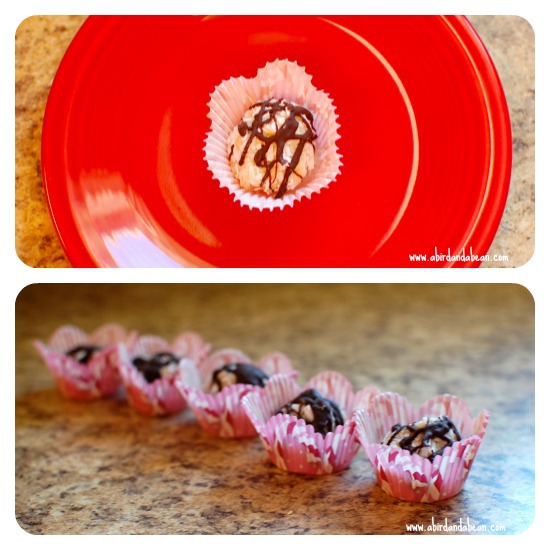 Aren't these Healthy No-Bake Coconut Almond Joy Truffles so pretty?  (And with such a short name.)  Seriously, though, these.are.ridiculous.  They're like healthy little nuggets of no-bake joy.  "Almond" Joy!  Coconut-y, chocolate-y, deliciousness.  Gluten free.  Paleo friendly.  Now that is a great dessert!
They were SO easy to make, too.  The kids could do it!  They would love that.
I love.love.love coconut.  I recently spied a tasty looking coconut recipe on Pinterest and it led me to Chocolate Covered Katie, and her no bake coconut crack bars….I knew I would be needing to try them out ASAP!  I altered and changed it up a bit to make them bite-sized, round, and chocolate covered!  😉
You could even make them egg shaped and serve them at Easter!!  Holla!
What you need::
1 cup shredded unsweetened coconut + 1/4 cup for sprinkling
1/4 cup pure maple syrup (or agave or 1/4 cup water and 2-3 stevia packs)
2 tbsp virgin coconut oil
1/2 tsp pure vanilla extract
1/8 tsp salt
1/2 cup of raw almonds
1/2 bar of dark chocolate
PS. You should just go ahead and double it!  😉
What you do::
Combine all ingredients in a food processor or high powered blender.  Take a spoonful of the mixture (it will be soft – don't worry) and place an almond in the middle.  Roll into a ball around the almond.  (This will temporarily make it even more soft because the heat from your hands will melt the coconut oil.  It's OK.  It will all work out.)
Keep making balls around almonds, if it seems so soft, you can pop the whole situation into the fridge for a few minutes, it will make it easier to work with.  Sprinkle some shredded coconut on your finished balls.  Melt the dark chocolate carefully in a microwave (short spurts so it doesn't burn) or double boiler.  Drizzle the chocolate on the balls.  Pop it all in the fridge for a few hours.  Can be stored in the fridge or freezer, for at least a few weeks.
So good!