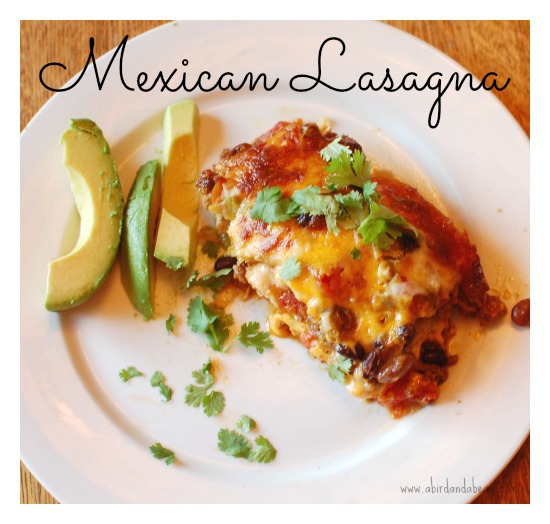 This Mexican Lasagna is a tasty staple in our house.  It's one of my kids (and hubby's) most favorite meals ever.  And it's so easy.  I mean, really, really simple.  My parents have a lovely grass-fed cow butchered every year, keeping the whole family in tasty organic meat, so I always have a freezer full of ground beef to figure out how to use in new and interesting ways.  (Seriously, isn't that so nice of them!?  Thanks Mom and Dad!)  We make gyros and burgers and burritos and soup.  But this Mexican Lasagna dish is one of our favorites.  It's cheesy and hearty comfort food without being heavy like real lasagna made with pasta.
This Mexican Lasagna can also be made ahead at least 12 hours in advance or even frozen.  (Let it come to room temperature before baking.)  It's also a perfect pot luck or entertaining meal.  Everyone loves it.  It's super easy and forgiving.  Add different veggies or more layers.  Omit the meat and make it vegetarian.  Use corn tortillas and make it gluten free.
Double it, freeze it, eat it!
Mexican Lasagna
Author:
Prep time:
Cook time:
Total time:
This Mexican lasagna is so tasty and cheesy and delicious. It's hearty without being heavy like Italian lasagna made with pasta. It's a favorite around here.
Ingredients
1 pound of ground beef
1 onion, diced
1 can of tomato paste (6 ounce)
1 can of diced tomatoes (sometimes I use the ones with green chilies in it)
1 can of black beans, drained (or any beans….even refried)
4 cups of shredded cheese (any blend works – Mexican blend is great!)
1 package of flour tortillas (we like to use whole wheat in this recipe)
1 package of taco seasoning
(I usually don't have this, so I add 1 tablespoon chili powder, 2 teaspoons cumin, a dash of cayenne, 1 teaspoon dried oregano, and salt and pepper to taste)
Frozen corn is a nice addition that I like to layer in there too, but I didn't have any this time.
Optional Garnishes
black olives
sour cream
cilantro
salsa
avocados
Instructions
Preheat oven to 350 and lightly grease a 9 x 13 inch pan and set aside.
Brown ground beef and onion together. Drain grease.
Add tomato paste and diced tomatoes. Stir and cook for a few minutes. Stir in the spices and combine.
Take your greased pan and layer your ingredients…lasagna style! I do it in this order. 2 tortillas, side by side on the bottom. 1/2 of the meat mixture, 1/2 can of beans, half bag of corn (if using), 2 cups of cheese. Then repeat.
Bake at 350 for 30 minutes, until bubbly.
Let stand 5 or so minutes before serving.
Garnish and serve.