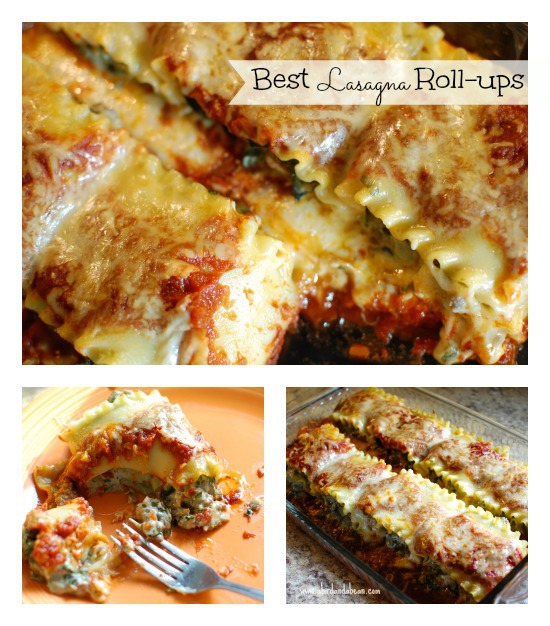 This recipe is for the best lasagna roll-ups ever!  This is one of those fantastic recipes that you can whip up in no time and yes it looks like you spent a lot of time making a fancy meal.  These are everything delicious and wonderful about lasagna in a nice little roll.  My family loves them!
You can make these lasagna roll-ups any way you want.  How about vegetarian?  Just omit the meat and add more veggies and cheese.  Make them with less fat by using ground turkey or chicken instead of beef.  The possibilities are endless.  You can use a white sauce instead of red.  You can make them with Mexican spices and salsa to make them into a different meal entirely.  The recipe is so forgiving, you can customize it however you want, depending on your tastes or what you have in the house.  I just love recipes like that!
Here's how I usually make them…
The Best Lasagna Roll Ups
Author:
Prep time:
Cook time:
Total time:
These Lasagna Roll-ups look fancy enough for a party, but could not be easier. They are great for an everyday weeknight meal or entertaining. Simple and delicious!
Ingredients
1 package of lasagna noodles
1 pound ground beef
1/2 onion, chopped
15 oz. ricotta
1 cup shredded mozzarella
¼ cup grated parmesan cheese
1 large egg
5 ounce package of fresh spinach
2 cups marinara sauce (homemade or jar)
1 tablespoon of oregano
to taste salt and pepper
1-2 cups of mozzarella cheese for topping
Instructions
Boil water in a large pot. Cook lasagna noodles following the directions on the box. When they are finished cooking, drain in a colander. Set aside.
Heat a tablespoon of oil in a pan on medium heat. Brown the ground beef and onion together.
Turn down the heat and add the spinach stirring until just wilted, 2 minutes.
Combine the ricotta, 1 cup of mozzarella, parmesan, egg, oregano, freshly grated pepper and about ¼ tsp of salt. Mix until well combined.
Add the meat mixture to the cheese mixture. Combine.
Preheat the oven to 350. Prepare a glass casserole dish by adding a thin layer of tomato sauce to the bottom.
On a clean surface, lay out a few noodles at a time.
Place a few tablespoons of filling on each noodle. Spread the filling to cover the noodle from edge to edge.
Roll the noodles up and place in the prepared casserole dish, seam side down. Repeat until all of your filling is gone. (I ran out of noodles before I ran out of filling.)
Pour the marinara sauce over the rolled noodles making sure to cover.
Cover the dish in foil and bake for 30 minutes.
Remove foil and sprinkle remaining mozzarella cheese on top.
Return to oven until cheese is melted, about 5 minutes.
Serve and enjoy!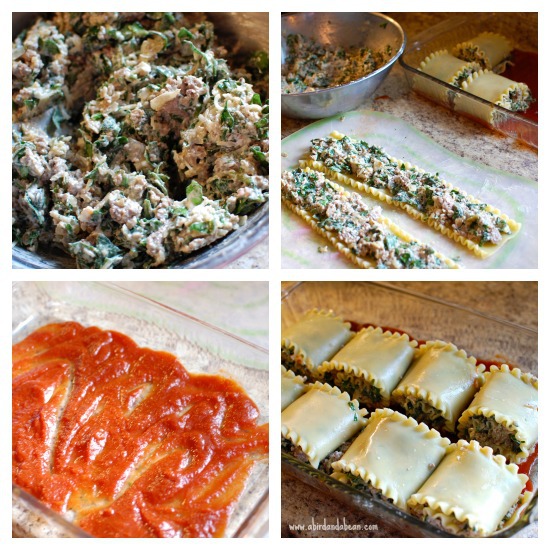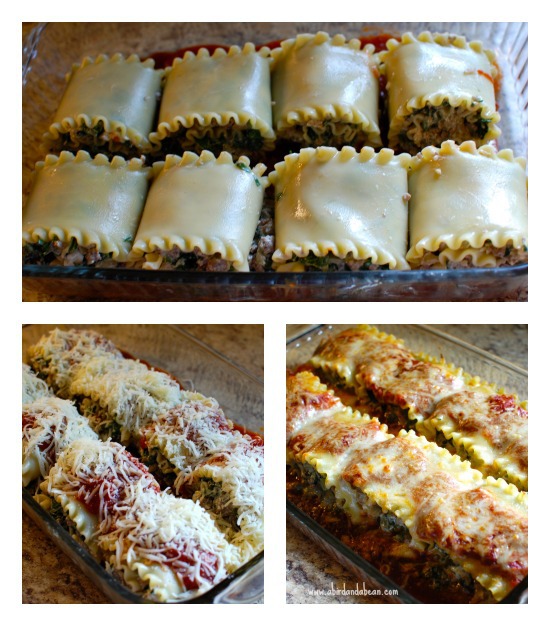 You know I love any recipe that I can use our freezer-full of ground beef with.
Like these…..
Mexican Lasagna with tortillas