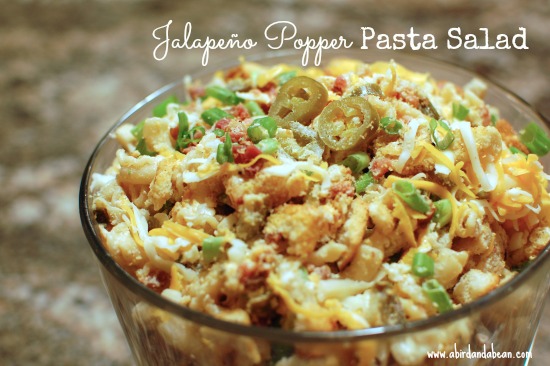 Recently, I've been buying jars of jalapeños every time I go to the store.  I just love them these days.  So strange.  (and, nope, not pregnant.)  😉 But they are so good in everything!   Jazzes up any old meal!  I used them make this amazing, crowd-pleasing, lower-fat version of Jalapeño Popper Dip.  And then again to make these fantastic Jalapeño Popper Patty Melts.  It got me wondering what other delights I could come up with using these spicy, tangy little babies.  Of course, I could always use them to make some tasty Super Nachos.  But, I was thinking more outside of the box on this one.  I toyed around with the idea of pasta.   YES!  Jalapeño Popper Pasta Salad.
My BLT Pasta Salad is by far the most clicked on recipe here at a Bird and A Bean.  That got me thinking that people must need more pasta salad recipes.  🙂  I made a couple different versions and they were all tasty.   But, this one was the hands down winner.  Creamy and delicious!  Perfect for a party or potluck.  Enjoy!
And of course this one has bacon too.  Don't forget this simple bacon tip.  Makes my life so much easier!
Jalapeño Popper Pasta Salad
Author:
This Jalapeño Popper Pasta Salad is the perfect addition to any party. Spicy, tangy, creamy and crunchy. Everyone loves it.
Ingredients
1 pound dried pasta
1/2 cup mayonnaise
1/2 cup sour cream
juice of 1 lemon
1 teaspoon salt
1/2 teaspoon garlic powder
1/2 teaspoon white pepper
1 cup of jarred jalapeños, chopped (I like to use the less-heat kind.)
1 cup of Monterey Jack cheese, shredded. (or pepper jack, if you're feeling spicy)
6 slices bacon, cooked and chopped (or use some from your grocery store salad bar!)
2 cups of croutons, chopped
Instructions
Cook bacon until crisp. Transfer to a paper towel lined plate. (I usually crisp up the bacon in a pan even if I buy it from the salad bar.)
Cook pasta according to package directions. Drain. Run cold water over pasta until cooled.
Whisk mayonnaise, sour cream, lemon, salt, garlic powder, pepper together in a bowl.
Stir cooled pasta, jalapeños and bacon into the dressing. Toss to combine. Refrigerate for 30 minutes.
Sprinkle croutons over the pasta salad right before you serve.
Enjoy!