If you haven't been to The Capital Grille, yet, I highly recommend it.  It's a great night out.  Super fancy and elegant, but also comfortable and friendly.  And, the food is out of this world.  They host an amazing wine event every summer called The Generous Pour.  It's going on now until September 4th.  So, it's really the perfect time to check this place out.
Delicious wine + amazing food + fancy schamncy place = the PERFECT night out!
So, what is this Generous Pour event?  It's the largest wine event of it's kind, in the whole country.  Capital Grille's own Master Sommelier, George Miliotes, has chosen the perfect wines to be featured at this year's event.  And they were all delicious.  And the servers are seriously awesome!  They are trained and ready to expertly guide you in paring your selections with your dinner.
 When you walk in the door you know you're in for a treat.  The interior is lovely with rich African mahogany paneling and beautiful Art Deco chandeliers.  It's all very elegant and inviting and comfortable all at the same time!
The bar area has an open air feel with big windows which can be opened all the way, weather permitting.
We started the evening with a cocktail.  I went with the Grapefruit Buck, which is Absolut Ruby Red with a splash of elderflower cordial, ginger beer and fresh squeezed lime juice. Topped with Campari and garnished with a fresh ruby red grapefruit wedge, this was a refreshing, tasty and beautiful drink.
Perfect for summer.
The appetizers were ridiculous.  The prosciutto wrapped mozzarella was my fave.  They make the mozzarella fresh in house every day!  It was perfectly salty and creamy and served with cheese toast and vine ripened tomatoes.  I wish I was eating these right now.  Their signature appetizer is pan-fried calamari with hot cherry peppers.  This was amazing.  Crispy, golden, fried, spicy little treats.  You must get it.  The Lobster and Crab cakes were so good too, with huge chunks of seafood and served with a fabulous corn salsa.  Hungry yet?
Since we were enjoying The Generous Pour event, we had some fabulous white wines that were paired with our appetizers.  Three amazingly paired white wines.  We had Stellina Di Notte, Pinot Grigio with the Prosciutto Wrapped Mozzarella.  Provenance, Sauvignon Blanc with the Pan-Fried Calamari.  And Chateau St. Jean, Robert Young Vineyard, Chardonnay with the Lobster Crab Cakes!  
I learned so much about wine at this event!  The pairings were just excellent.  Tasting the food and the wine together made each one better.  Crazy how that works.  I really just like wine.  I'm going to have to start paying closer attention to what I buy!  You can learn more about those wines here.  
After the appetizer course, we were definitely full.  But, when dining in a restaurant specializing in dry-aged steak. You kind of have to order steak!  (OK, you don't really have to…they have chicken and seafood and pasta dishes, as well.  But, I chose steak!)
So, why is Capital Grille so good at steak?  They are diligent about their steaks.  And you can taste their serious  attention to detail.  They are dry-aged for more than 18 days right there in the restaurant!  Dry-aging concentrates the natural flavors of the meat while also tenderizing the texture.  The steak was perfectly cooked and melted in my mouth.
My steak selection was paired with Stags' Leap,
Cabernet Sauvignon and the Beaulieu Vineyard Cabernet Blend.  Amazing.  They were so good.  I never wanted to stop drinking the cabernet.   It was so fun to learn about the wines and pairings.  
We also tried a few of the side dishes, which you can order as a full sharable size, or as a half size.  (so you can taste more!)
The soy glazed Brussels sprouts with bacon are my favorite.  They are prepared with a Hoisin soy glaze and smoked bacon lardons (What are lardons you ask?  Enormous pieces of bacon! WIN!)  The grilled asparagus with lemon mosto was fresh and delicious.  The parmesan truffle fries are crispy and sprinkled with white truffle oil.  I mean.  It was all so good and so rich.  You didn't think anything could be better.  And then they brought out the Lobster Mac and Cheese.  With HUGE pieces of lobster.  I kind of don't want to eat anything else but that for the rest of my life.  I've been ruined.
Dessert?  Oh, yes, they have dessert!  As over the top as all the food was, our server told us that they get even more rave reviews on the dessert menu.  We got to try the Flourless Chocolate Espresso Cake.  I'm not a huge chocolate person.  (I know.  weird)  But this cake was out of this world.  I could have eaten the whole thing.  But, I only had a bite because I wanted to taste the Capital Grille cheesecake too.  It has a caramelized brûlée crust on top and it's served with fresh berries.  It's light and fluffy because it's made with ricotta!  The coconut cream pie was amazing too with it's perfectly buttery crust.
Grab the hubby.  Or get the girls together.  This is the perfect time to try Capital Grille.  The wine event was so much fun.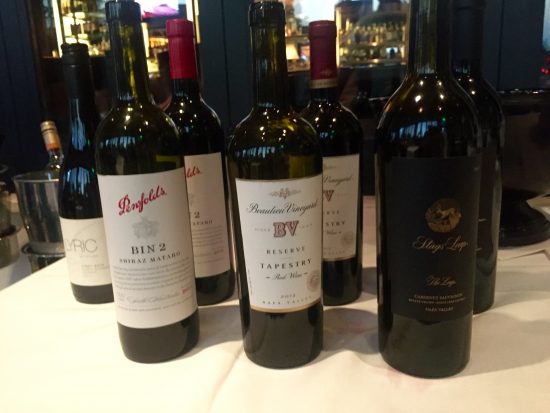 Thank you The Captial Grille for the wonderful night out!  All opinions are my own.  I would recommend this place and The Generous Pour event to all of my friends.  I had a great time, with fabulous food and I learned a lot!  With over 50 Capital Grille locations nationwide, you are bound to have one close to you.