Hi Bird and Bean readers… I'm excited to be here again with these fun and simple DIY Halloween Cards. They can be sewn with a sewing machine or needle and thread, so this is a great project for everyone.
Cute right? They are SUPER simple too! Let's jump right in and make these!
First, you will want to sketch out some Halloween graphics… I thought about sharing mine, but they aren't that great so I will let you create or find your own. I came up with a little ghost a pumpkin. You will need felt, blank cards and embroidery floss if you want to hand sew. I want to end up with this!
Cut out the felt shapes… we will start with the sewing machine pumpkin. After I cut it out, I added some marker grove lines. You can decorate your shape as you want. Use the sewing machine to sew around the outside of the shape. I used a zig-zag stitch.
I also added some curly green stitching for pumpkin vines… I finished this pumpkin with a brown felt stem.
Ok, now onto the hand sewn card. I drew on the eyes.. and then used needle and thread to sew around the outside.
I was having some trouble with the thread breaking as I pulled it through the card. So.. when I got to the words, I punched the holes BEFORE sewing. I would recommend this!
And there you are! Easy and simple DIY Halloween Cards. This would be a great project to do with an older child. I was thinking even my 6 year old could sew if I pre-punched the holes!
The cards… all ready to send to the grandparents!
Thanks for having me Erin!! I'll be back next month with another fun sewing project.
Here are a few other Halloween projects to check out: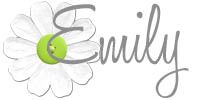 Emily's  a Jesus loving mother and wife who currently lives in Hong Kong.  They live in a small apartment in a big city and they enjoy the busy pace of life.  Her two boys keep her hopping, and she also loves sitting at her sewing machine for long periods of time and deep conversations over cups of coffee with friends.  Her blog, Nap-Time Creations, is about life, sewing, crafts and a recipe here or there. 
Connect with Emily.  You'll be so glad you did.  
You can check out Emily's other posts here.
Nap-Time Creations Blog | Facebook | Twitter | Pinterest | Google + |