This is a Sponsored post written by me on behalf of Walmart for SocialSpark. All opinions are 100% mine.
We've talked with the kids a lot recently about hunger in the world and hunger right here in our country.  We just finished the Rice and Beans Challenge and the kids (OK….and Kevin and I) learned a lot about hunger and how blessed we are to have so many choices and such abundance.   I used marbles to show the kids how we can help by saving money to help others who don't have as much as we do.  We learned a lot.  It was a great and amazing experience, but I'm so glad that Rice and Beans week is over! 🙂  But that doesn't mean we still can't get involved.
This was the perfect opportunity to take the kids online and vote for our local Feeding America food bank! Did you know that more than 50 million Americans live in food insecure households with 16 million of those being kids?!  That's a lot of hungry kids.  The Fighting Hunger Together initiative will deliver $3 million in grants for hunger programs and local Feeding America Food Banks all across the US in April.
We can vote online once a day in April for our local Feeding America food bank!  The 100 winning food banks will share  the 3 million dollars in grants for hunger relief programs!  All we have to do is go online and vote!  Easy Peasy!  The winners will be announced in May.
Please consider joining the fight against hunger by volunteering at a local hunger relief organization or by voting to distribute grants to local communities.
Vote and volunteer to fight hunger this spring with Walmart!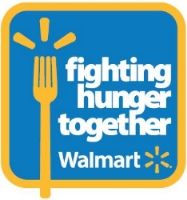 I would love to hear from you!  Will you volunteer?  Will you vote?  Please share with us.