We had such a blast exploring Kelleys Island recently.  If you're looking for a little get-away, this is the place. It's close to Cincinnati and has so much to offer.
We took the Jet Express to Kelleys Island while we were in Sandusky to visit Cedar Point.  Seriously, Sandusky has to much to do.
Check out the Lake Erie Shores and Islands page for even more ideas.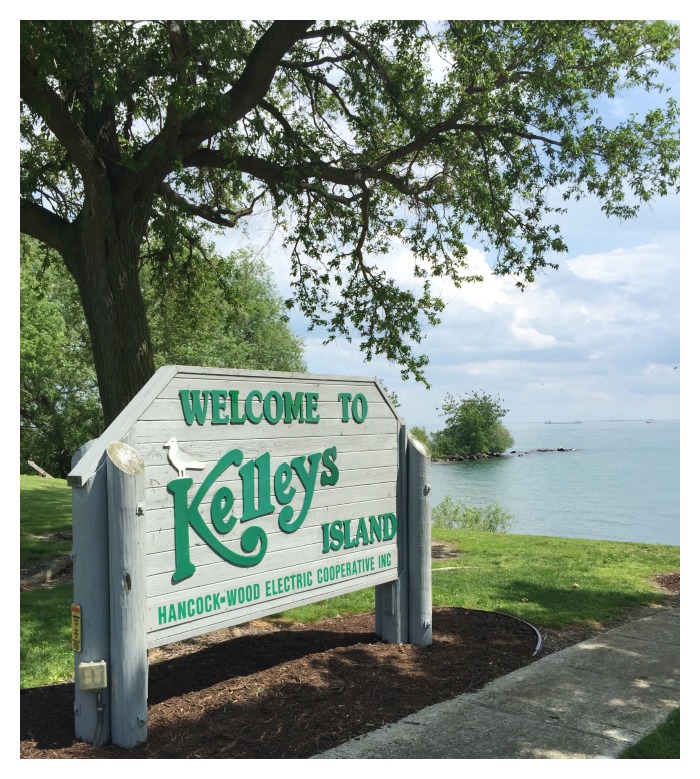 We were so excited to check out Kelleys Island.  It's located in Lake Erie about four miles north of Marblehead and twelve miles from Sandusky. The entire island measures more than four square miles and is the largest American island in Lake Erie. The Canadian Border lies only a few miles north of the island!
They have plenty to do and lots of places to rent.  Cabins and houses and even a hotel!   It's so cute yet has so much to do!  We had a blast!
You can take your car to the island, but there are plenty of other ways to get around.  Bike rentals, golf cart rentals, or bring a skate board and hitch a ride.
They have a beautiful quarry that you can hike or drive around.
We hiked around the gorgeous Horseshoe Lake and the kids found some snails.  (They wanted to take them with us as our new pets.  No.  No more pets!)
The public beach is sandy and so clean.  It's called Sandy Beach.  (clever.) The kids had a great time playing around.  We should have brought their swimsuits.  The water was really warm.

One of my favorite parts of the day was checking out the world famous Glacial Grooves!  Oh man, these were so fascinating to me!  They are the largest glacial grooves in the world at 400 feet long, 35 feet wide and up to 10 feet deep! Just imagine the tremendous power of the ice that formed them.
The island has lots of hiking and walking and bird watching in the Kelleys Island State Park and Nature Preserve trails.  There's also a brewery and a wine company and plenty of restaurants to grab a bite.
They have world famous fishing (just remember to get a license before you leave the mainland) and you can even scuba dive and check out some shipwrecks!
It was a great day!  Until next time, Kelleys Island.
Disclaimer: I visited here as part of a media tour through Lake Erie Shores & Islands. Make sure you visit their webpage if you're visiting for wonderful ideas and savings! They have a coupon card that highly I recommend.