Hello, hello, everyone!! I hope you're having a great weekend and also, Happy Mother's Day to everyone!! I can't believe it's already that far into the year that we're celebrating our Mom's! This year is just flying by, but it seems the older I get, the faster time goes on. It's a little sad, but also good because I get bored fast! haha!
Ok, let's jump right into the cute little Teacher gift I made to share with you this week. I know that teacher appreciation week was the first week of May, but I was super busy that week and wasn't able to do anything super cute like I always plan to do for the kids' teachers. I am a sucker for a good pun and a cute gift, no matter how old my kids get, I think I'll always want to give cutesy gifts. I don't know if the teachers appreciate it, but I usually try to include a yummy treat.
Like I said, I missed giving these gifts during Teacher Appreciation week so I am planning on giving these to their teachers as a last day of school hoorah!I might also include a gift card to Target or somewhere, but for now, this is what I decided to go with.
I had picked up a big bag of Cinnamon Bears at Walmart and was eating them about a week ago and it suddenly dawned on me that I could make a cute little box with my Silhouette and buy some more gummy bears and use this cute little quote "You're a BEARY awesome teacher".
I know this cute little phrease isn't a new one and it has circled around the internet/pinterest for a long time. I thought to spice the idea up I would use my Silhouette Cameo and my Silhouette Sketch Pens. I really LOVE how this turned out!
These are the little baggies I made up with the gummy bears and then tied them with some twine. I included a few bags in each little box.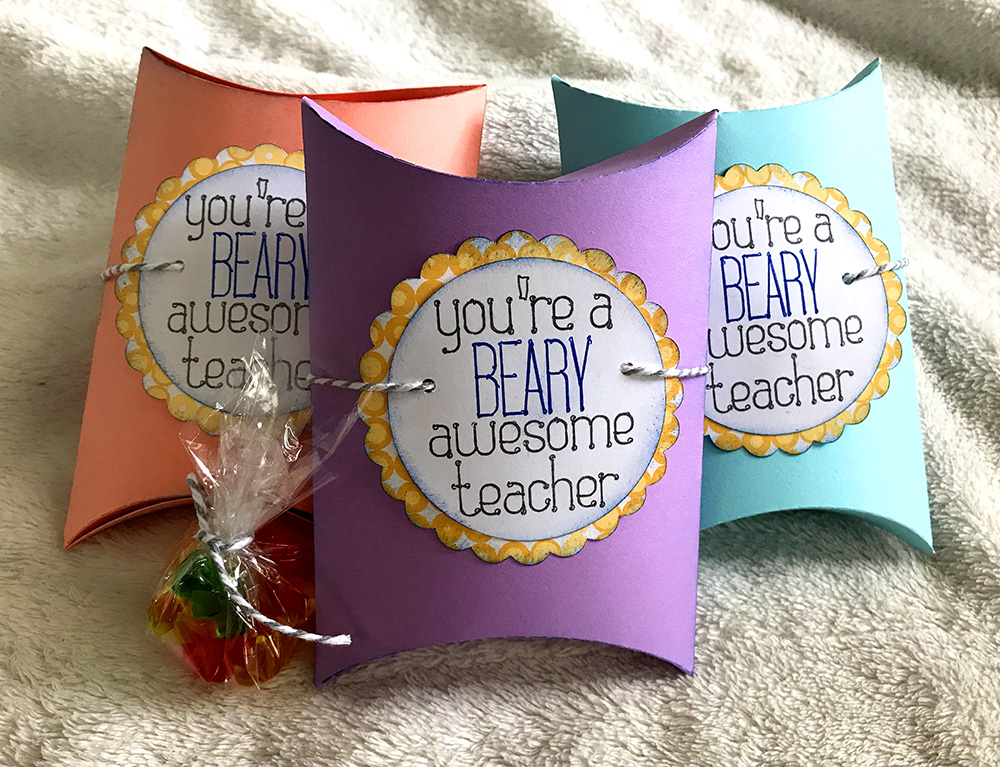 I am really excited to have my boys give their teachers these gifts. I know it's really not that much, but this is the way that I show them I really appreciate all that they do! I hope they feel the love. 🙂
Thanks for stopping by today! I hope you're having a great weekend so far! I'll see you again next month!