I LOVE summer.  I always have and I always will.  It's entirely possible that even as a young child, I wanted to be a teacher, just so that I could have the summers off.  And my birthday is in the summer, so that helped.  What kid doesn't love summer and birthdays?!  It love it all.  The heat, grilling, eating outdoors, pool parties, carefree days outside, catching lightning bugs at night, road trips, swimming, BBQs, lazy days by the lake.
When I was a kid, my grandparents lived in a log cabin on a lake and they used to throw the most EPIC parties.  I can still remember the vintage cooler on legs that they would bring out to the yard.  It was always filled to the brim with real GLASS bottles of pop.  It had a bottle opener right on the front of it.  It was a rare treat for us to have soda, so it was extra memorable.  I would always choose an ice cold Dr. Pepper.  So, even now the taste is super nostalgic to me.  Ah, parties at the cabin were the best.
My parents had a cabin on a lake for a little while and it was so fun for me to see my daughter create some of the same memories with my dad, that I did with my grandpa. Fishing, swimming, boating and camp fires.  Such sweet moments.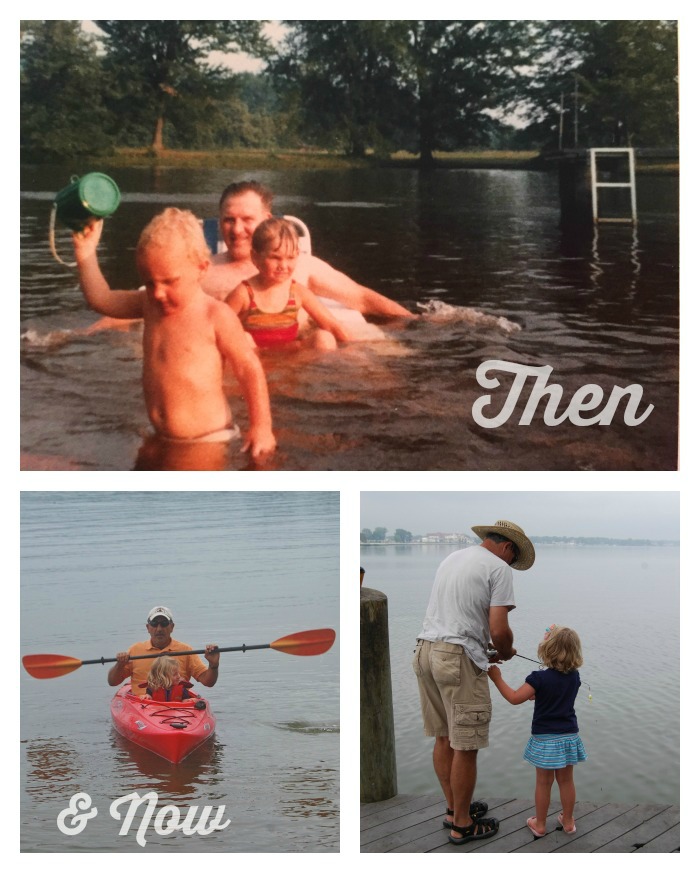 And such good memories.  Ah nostalgia, gets me every time.  Dr. Pepper has two new limited edition flavors available at select Safeway and Alberstons stores and they are delicious.  They bring me right back to summer as a kid.  You have to try them.  Take a sip of nostalgia and unlock your summer fun!
I've been seeing recipes for Dr. Pepper pork and Dr. Pepper ribs and Dr. Pepper meats around and always thought it sounded amazing.  So, when I found the new Dr. Pepper Cherry at my grocery store, I decided it was time to try it.  I looked up all the recipes that sounded good and adapted them a bit.  I wanted slightly sweet and a little bit spicy.  It works and oh is it GOOD!  And the hint of cherry with pork is perfection!   We made tacos with it and they were out of this world.  My husband has asked for this meal to be in our regular rotation.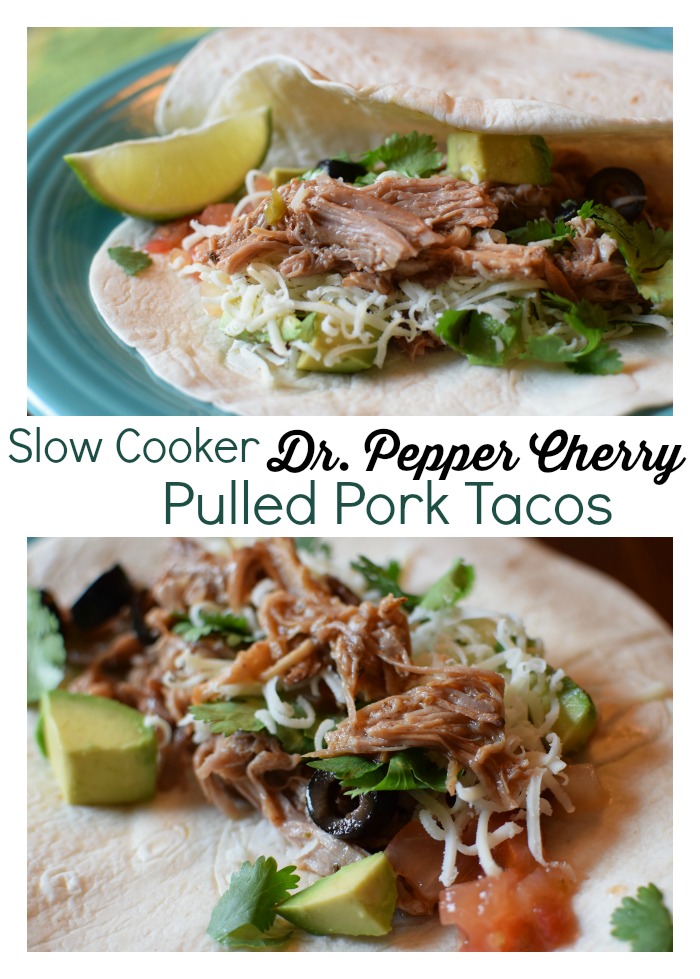 The next day we had leftover pork and I made Dr. Pepper Cherry BBQ sandwiches, which were just as amazing.  This is a very versatile recipe.  You could use it to make amazing nachos, or sliders, or pizza as well as the tacos and sandwiches.  It's good stuff and you can really taste the cherry and the Dr. Pepper.  We are creating new memorable summer moments!
Dr. Pepper Cherry Pulled Pork Tacos
What you need:
4 pound pork shoulder
1 onion
24 ounces of Dr. Pepper Cherry
Chipotle peppers In adobo sauce (I used only a few peppers and a bit of the sauce for a hint of heat.  Add more if you like it spicy!) (optional)
2 cups of your favorite BBQ sauce.
Pork rub or your favorite seasonings.
Fixings of your choice for the tacos.  (tortillas, cheese, tomatoes, avocado, olives, sour cream)
What you do:
Season pork with your rub on all sides.  Really rub it in, that's why it's called a rub!
Chop onion into large pieces and place in the bottom of the slow cooker.
Place pork in slow cooker and pour the Dr. Pepper right on top.  It fizzes.  Watch out.
Add one cup of BBQ sauce.
Add a few chipotle peppers and a bit of the sauce from the can.
Stir the juice around the meat.
Cook on low 7-8 hours.
The meat will be tender.  (If it isn't, cook for another hour.)
Using two forks, shred the pork.
Remove as much fat from the cooking liquid as you can and place back into it, in the crockpot.
Add the remaining barbecue sauce and stir.
Let it heat back up and serve.
This recipe is so good and so simple and has such nostalgic flavors.  Relive your carefree kid moments this summer with the new Dr. Pepper flavors.  Celebrate summer, throwback the memories.
Disclosure:   This is a sponsored conversation written by me on behalf of Dr. Pepper Snapple Group. The opinions and text are all mine.  Comments submitted may be displayed on other websites owned by the sponsoring brand.
This is a sponsored conversation written by me on behalf of Dr. Pepper Snapple Group. The opinions and text are all mine.