We had a fun filled "American Girl Doll Slumber Party" last week.  Little Lucie turned 8 and we invited 8 of her friends (and their dolls) over.  It was so much fun.  They made crafts and danced and played and ate and ate some more and watched an American Girl Doll movie.
We had Make Your Own Pizzas for dinner.  And that was great.  So, for dessert, I thought it was fitting to have an Ice Cream Float Bar.  It was a HIT!  They went crazy for all of the combinations they could create.  It was hilarious to watch them pass the pop (or soda, depending on where you live) and ice cream around the table.
ICE CREAM FLOAT BAR
What I had on our float bar:
pretty float glasses (You can find them for 50 cents each at Goodwill!)
pretty straws and spoons
several flavors of Graeter's ice cream and one sorbet.  (One of the girls can't have milk, plus I like sorbet!)  😉
cherries
marshmallows
whipped cream
strawberry syrup
chocolate syrup
sprinkles and pink sugar
lots and lots of pop.  We had cola, ginger ale, grape, cream soda, orange, red cream soda, root beer, black cherry and pineapple.
The girls had such a blast.  It was so fun to see the crazy combinations that they came up with.
I used Graeter's ice cream, because I'm from Cincinnati (that's why I call it pop!) and because it's our very favorite ice-cream.  Have you ever tried it?  Oh man.  So so good!  It used to only be available here in the Cincy area.  (I even read that Oprah loved it so much, that she used to have it specially shipped to her.)
But, now it's available nationwide in your grocery store!  Holla!
What makes it so good?  It's interesting really.  First of all they've been doing it for 145 years.  They use high quality ingredients and a method called the French Pot Method.  It's the only commercial manufacturer in the world to use it.  They also make very small 2 1/2 gallon batches (the smallest in the industry) and they hand pack every pint!   It's amazing stuff.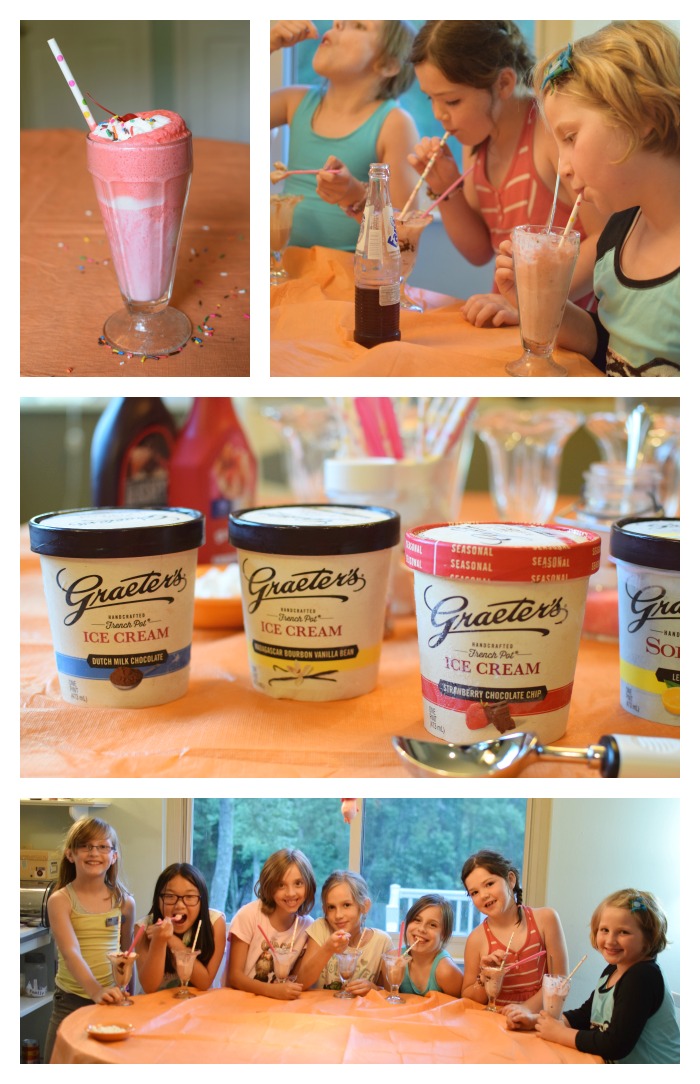 After we filled up on ice-cream floats, we played a healthy game of Spin The Bottle.  Because what slumber party would be complete without Spin The Bottle???
Not that kind of Spin The Bottle!  The nail polish kind!  I used white paper and an old game board.  They LOVED IT!  They each ended up with a crazy rainbow manicure.  It was great.

Slumber Party Success!
Would you like to try Graeter's ice-cream out for yourself?
I am giving away 4 coupons for pints of Graeter's!  YAY!  I will choose a winner using random.org on June 30th.
Enter by leaving a comment on this post.  What is your favorite float combination?
Disclosure:  Graeter's provided coupons for myself and for the giveaway for promotional purposes.  All opinions are 100% mine.