Hi, everyone!! How are you on this Saturday? I am great and so excited to share this cute and easy little project. I know that St. Patrick's Day is coming up fast, but I wanted to share this craft with you before the holiday passed us by. If you're looking to make one last decoration, this one is really simple! All you need is a little planter pot, green paint, black ribbon, and a gold buckle.
Here's my finished project: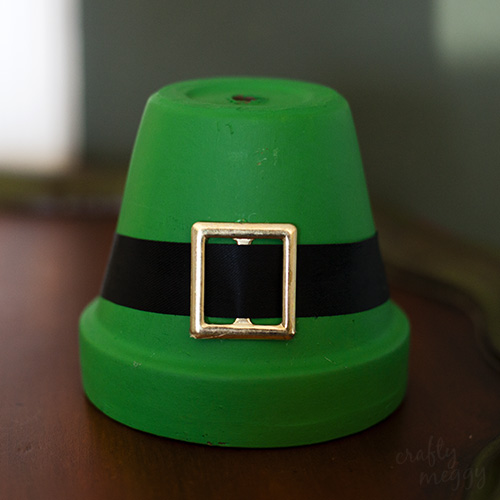 I really love how it turned out! All you have to do it paint the outside of the pot green, after it dries, glue the ribbon to the pot with the belt buckle in the middle of the ribbon, and you're DONE! I told you, so easy!
Here's what it looks like displayed in my front room:
I love this project!! It makes my living room so festive looking. The fact that it was easy and simple and only took about 30 minutes, including drying time, makes it all the more appealing as a busy mom who wants to be crafty and have some time to myself!
Thanks for stopping by today!! I hope you get a chance to be inspired by this project before the holiday is over! See you next month!
Megan's a full-time mom and a part-time professional photographer.  When she's not busy cleaning up after 3 wild and crazy boys and hubby, she can be found holed up in her craft room making things. She loves to sew, scrapbook, make cards and create.  She blogs over at Crafty Meggy expressing her creative side in a house full of boys.  She posts all about her crafting, organizing and cleaning adventures.  
Check out Megan's other posts here.
Connect with Megan.  You'll be so glad you did!
Crafty Meggy Blog | Facebook | Twitter | Pinterest |