I had a hankering for some Chicken Piccata the other night.  It's one of my favorite chicken dishes ever.  It's all lemon-y and butter-y and caper-y.  Yeah, caper-y should be a word!  🙂  I decided to get crazy and add a few drops of my lemon essential oil.  I figured 'what could it hurt?'  I have it, it's cheap and I LOVE lemon!   And, I'm so glad I did.   The lemon oil added such a nice depth of flavor to the piccata.  So, now it is The Best Chicken Piccata….ever!  The aromatic benefits of the oil were still there in full force and aroma is responsible for 90 percent of our taste.   So, try it out.
Chicken Piccata
Author:
Prep time:
Cook time:
Total time:
The addition of lemon essential oil to this recipe really takes the flavor to the next level. It adds nice depth of flavor without adding too much acidity. I love this dish.
Ingredients
4 skinless, boneless chicken breast halves pounded thin
1 c. flour for dredging
2 tablespoons olive oil
2 tsp. dried thyme
2 lemons (1/4 cup fresh lemon juice)
3 cloves garlic, chopped
½ c. white wine, or use chicken stock
1 c. chicken stock
3 drops of lemon essential oil
2 Tbsp. capers in brine
½ c. fresh parsley, chopped
4 Tbs. butter
salt and pepper to taste
Instructions
Place chicken breasts between 2 layers of plastic wrap and using a mallet (or coffee mug) pound to about 1/2-inch thick.
Season each piece of chicken with salt and pepper, both sides.
In a shallow dish combine flour, salt and pepper.
Dredge lightly in the flour. Shake off excess.
Heat olive oil in a skillet over medium heat. Cook chicken until golden brown on each side. (about 5 minutes per side, remove to a plate or cookie sheet.)
Add garlic, lemon juice, wine and chicken stock to the pan. Scrape up browned bits from the bottom. Simmer until reduced by half, a few minutes.
Reduce heat and add butter and parsley and capers.
Add 3 drops of lemon essential oil.
Return chicken breasts to the pan cook until heated through. (3 to 4 minutes.)
Serve with sauce spooned over the top.
Enjoy.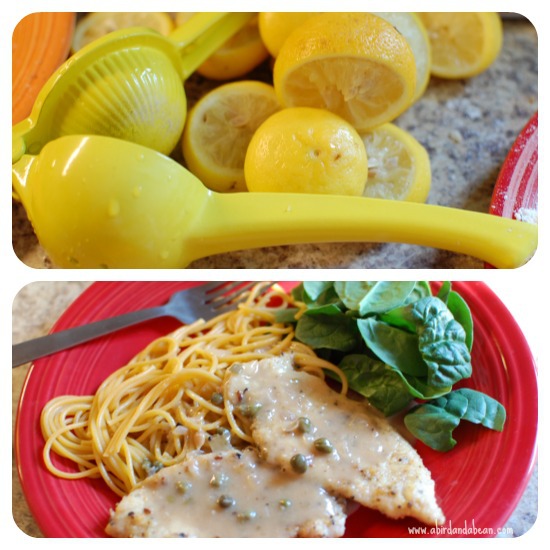 Please note that not all essential oils are created equal.
When you are choosing your essential oils, please know that there are different grades available.  You can find some low priced oils in your grocery store or health food store.  Please be sure that your oil says they are safe to ingest.