If you ever find yourself near Sandusky, Ohio…..you absolutely must get yourself to The African Safari Wildlife Park.
It's such an unusual and fun place.  My family goes every year and it never gets old.  NEVER.  We all scream and laugh the whole way through.  It's amazing and so crazy!
The park includes a small walk-thru safari zoo with all kinds of interesting animals and amazing birds.  The benefit of it not being a huge zoo, is that you can really get up close to the animals. (including their rare white albino alligator!)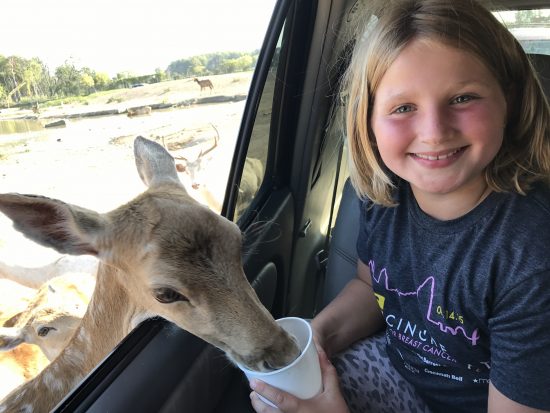 They also have really great shows and extra activities.  Like a giraffe adventure, camel rides and kangaroo feeding.  Check them all out!
Now, after you check out the walk-thru…. it's on to the drive-thru safari and that's where things get kind of crazy.  You can buy a package deal that includes animal food with your tickets, or you can purchase extra food.  And then you head on to the safari doors.  Llamas, alpaca, deer, elk, bison, zebra, giraffe and more will be trying to take a nibble of your tasty treats.  It is AMAZING!
They all come up right to your car windows.  And they even stick their big smelly, slobbery, giant, hairy heads right through the windows and INTO YOUR CAR!!  It's the best.
The bison are particularly huge and smelly and slobbery.  They're my favorite!!!
See!  You gotta get there.  I'm kind of obsessed with the place.
African Safari Pro Tips:
Check out Groupon, Living Social or similar sites first.  There is often a coupon that might be helpful.  The Safari often offers coupons on their site too.
Don't bring a convertible.  They won't let you put the top down.  Probably for the best, unless you want a bison IN YOUR LAP!  🙂  Which I kind of do.
Don't bring your own food, it's not allowed.
Get there earlier rather than later, if you can.  The animals are sometimes full near closing and not quite as interested in your treats.
Your admission includes as many trips around as you feel like making.
Sandusky is actually an AMAZING place for a vacation or mini-break.  Check out Lake Eire Shores and Island's website before you head there and see all they have to offer.  They are so helpful!  Shoot them an email with questions.
We've had so many great trips there.  It's only 4 hours from Cincy!!  Of course there's always Cedar Point and Kalahari!!  But there is so much more!  Take the Jet Express to Kelley's Island or to any of the other fun islands surrounding the area.  SO many great restaurants and activities and attractions.