I really love wreaths.  It's a strange obsession of mine.  I have a whole board on Pinterest dedicated just to wreaths.  Yeah, I know, I'm a weirdo.   It's OK.  🙂
I've been seeing succulent wreaths popping up on good old Pinterest lately.  Made with REAL succulents.  I love the way they look!  So cool.  I love succulents as much as I love wreaths!   But I just know that after all that work and expense, mine would die.  So, when I saw fake succulent picks (at the Hob Lob for 50 percent off)  I knew I had to give it a whirl.  🙂  Fake succulents look just like real succulents to me.  Yay!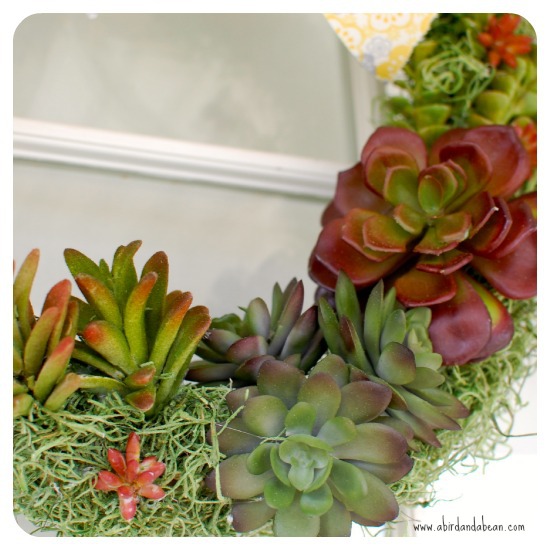 What you need
wreath form   (I used one from the Dollar Tree)

A bag of dried moss (Again, from the Dollar Tree)
Glue gun and glue sticks
Succulent picks (Hobby Lobby, half off!)
Ribbon
What you do
Glue the moss around your wreath.  This is messy, but I just glue and wrap.  There will be a bunch of extra on the table when you are done.  I took these bits and glued them to bare spots.  

Glue your succulents onto the wreath.  I liked this wreath because I could stick the picks right into the gaps of the vine and glue it all down.
Add a ribbon.  Tie a bow.
DONE!!
I really like the way it turned out.  It looks all green and Spring-y!
I love succulents.  I love wreaths.  Perfect.  It took about a half an hour and only about 8 dollars.  🙂
It's a great rainy Spring day craft.