I shared this project on a friends blog years ago and I thought I would re-share now in case you missed it.  With the fourth just around the corner, I thought it was a great project to share.  It's such a simple project and the kids had a blast doing it.  Look at how little they were!!  Awe!  #stopgrowingup.  We need to make more shirts because they obviously outgrew theirs.  (sob) But this is such a great project to do while we are all home and not at the pool!  (sob again)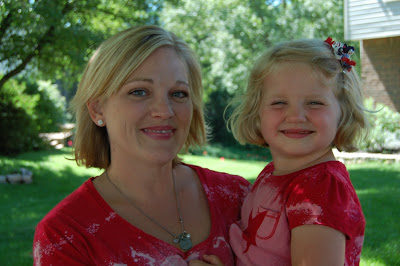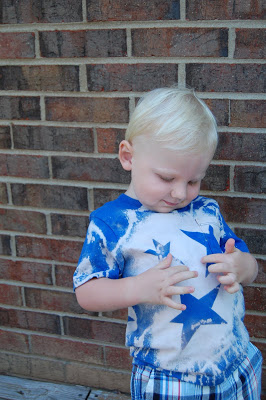 I thought it would be fun to make 4th of July shirts with the kids!   I love a theme and I love to be festive – no matter what holiday! (My husband was definitely not super thrilled about us all matching, but he lived.)  mwahaha.  He's a good sport.
It was a really fun project. The kids got into it and thought it was great. It does take some serious supervision though. You don't want bleach in any eyes. 🙂
What you need:
scissors
water guns
spray bottle
bleach
freezer paper
an iron
colored t-shirts – (100 percent cotton works best)
What you do: 
STEP ONE: Cut out stars (or any shape you want) from freezer paper. I just quickly hand-drew a bunch of stars and then cut them out.
STEP TWO: Iron the stars onto the shirt. Shiny side down. Medium setting for a good minute works well.
Tip. Do this soon before you make the shirts. If you do this too early the freezer paper doesn't keep a good seal. (I learned this the hard way one of the first times I tried the good ole' freezer paper method. I ironed on my design and then got busy and didn't paint until the next day…..no good. ) 🙂
STEP THREE: Put some sort of bag, cardboard or paper inside the shirt so the bleach doesn't bleed through.
STEP FOUR: Fill the water guns with mostly bleach and a touch of water. Fill the spray bottle with the same fun and dangerous concoction.
STEP FIVE: Put old art clothes on the kids so as not to ruin cute outfits. (I should have done the same…..the kiddos were ever so careful and stayed completely clean even though they had on art shirts ……and I ruined my pants!! nice – haha)
Emphatically warn them that the guns are filled with horrible poison and not to spray anything but the shirts.  Goggles might be a good idea.  And cute.
STEP SIX: Go outside and have at it.
I used the mist setting on the spray bottle to do a quick spritz around each star so that it would be sure to stand out. Water guns make more of a line – not a mist, so if you skip this part, the outline of your star might not be very obvious when it's all over.
After I misted the outline…..I let the kidlets do everything else. They actually did a really good job. The two of them had very different techniques. The bird liked wide sweeping lines and the bean liked to keep spraying one spot over and over again. 🙂
 STEP SEVEN: When the shirts are as light as you like, (about 4 or 5 minutes in the sun did the trick for ours) run inside and soak them in a sink full of water for a few minutes. Peel off the paper stars while you are soaking them. After you have removed all the freezer paper, throw them in the washing machine.
STEP EIGHT: Be all cute and patriotic in your new shirt!
Done and done.
I think the end results kinda look like fireworks. Cool. 🙂
I also really like the parts of the stars where the bleach seeped through a tiny bit. Looks neat. The freezer paper doesn't stay water proof forever, so eventually the bleach makes it's way in. Be quick.
***HAPPY INDEPENDENCE DAY!!!***