Who got an apple watch for Christmas?  ME! ME! I did!
I love the band that it came with, a lovely sporty soft pink silicone band.  It's nice, but it's not "fancy nice".  It's more of a "walk the dog nice" or "take a yoga class nice". I was looking for something a little more stylish and just a little more elegant, but still great for daily wear. Plus I hardly ever wear pink.
I'm not one to change my purse for different outfits (like ever), and I for sure will not be changing my watch band to match my clothes. I need something for every day.
And then I remembered JORD!!!  I reviewed one of their AMAZING wooden watches last year.  I loved that watch, y'all. It was gorgeous. I still get to see it, because my dad snagged it from me. He commented about how much he loved it and how perfect it was every single time I saw him until I just caved and let him have it!  haha.  Look at that beaut.  And the thief.
Then, I recalled that Jord also has apple watch bands! YES!
These Jord apple bands are just as gorgeous as my handsome "re-homed" watch. I adore my new band. Isn't she pretty?! They have all kinds of different woods and leathers to choose from. I went with zebrawood and just I love it.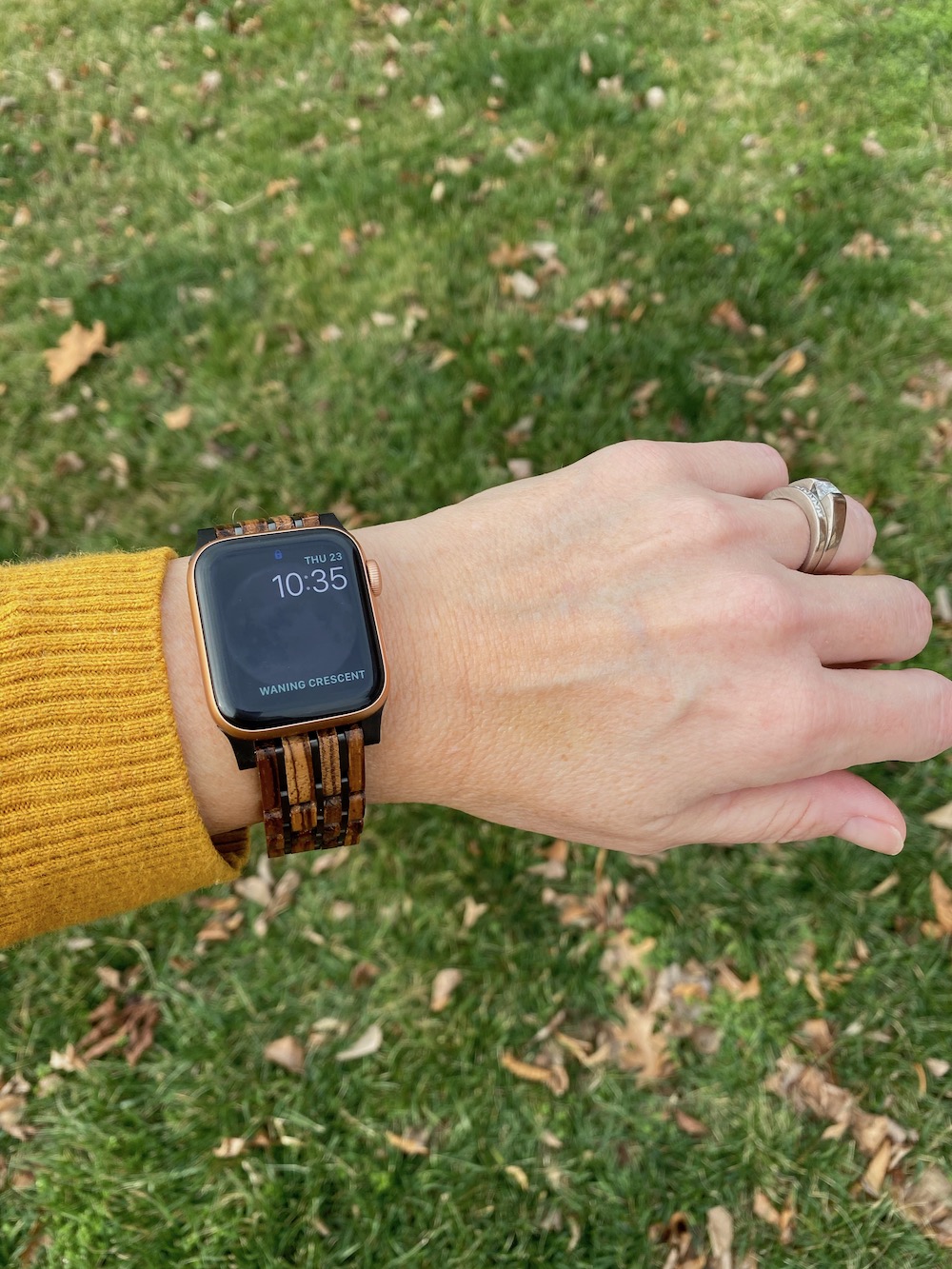 So, obviously, I'm certainly not a fashion blogger (faaaarrrr from it) but I do really like interesting and unique accessories that I can wear on the daily.
Check out this Jord photoshoot that my sweet 12-year-old did for me. I'm completely rocking it, right?!  I'm wearing my mom-uniform of leggings and a t-shirt with a cardigan or hoodie. And shoes from the clearance section of Kroger! That's right folks.
Also, I have literally no idea what to do with my hands!  haha. AWKWARD hand positions alert.
(The sweet twelve-year-old also bought me the hat!  She's clearly trying to keeping me cool.)
But, at least the watch looks cool, everybody!!
So, Jord (pronounced Yode – like baby Yoda without the a) is based in St. Louis, Missouri! (I do love a local US company.) They have tons of impressive watches and bands but are constantly developing new designs, too. They have something for everyone.
The watches are are a sophisticated mix of natural, and largely re-claimed materials, combined with quality movements and components.

I love mine, and I get compliments on it every day. Do you want one?  I know lots of you have apple watches that are in need of a brand-new, eye-catching, unique and versatile wooden band!!

Here is some interesting Jord info….

Most watch backplates can be engraved and all Cedar humidor presentation boxes are engravable, as well!
-The watches may be sized for the recipient
Most watches have additional options for customization — mixing and matching faces and woods!
Every watch comes with a one year warranty and options for return & exchange.
They offer free worldwide standard shippping.

More awkward hand positions coming up….yes, I went with the point. It's a classic.  🙂