I don't know about you, but I am always on the hunt for high protein snacks and meals. First of all for myself, because I am getting so so old and need to keep my sad little muscles. But just as importantly, I seek out high protein meals and treats for my kids because THEY ARE ALWAYS HUNGRY! I mean for real. One might think those cute little toddlers and preschoolers will out grow the constant requests for snacks. But I swear these teenagers are even worse. So, I ask them at every meal and snack…."Where is your protein?" Because it really does help keep us all full for so much longer.
So, I was THRILLED when I found Naked Nutrition. First of all the packaging is so cute. Very minimalist and appealing. I liked that right off the bat. They have lots of different products and protein powders, but they also have mixes that you can use for baking protein filled treats. Genius.
First up I tried the Naked Brownie mix. I mean, who doesn't love brownies?!  And brownies packed with 15 grams of protein. Sign me up.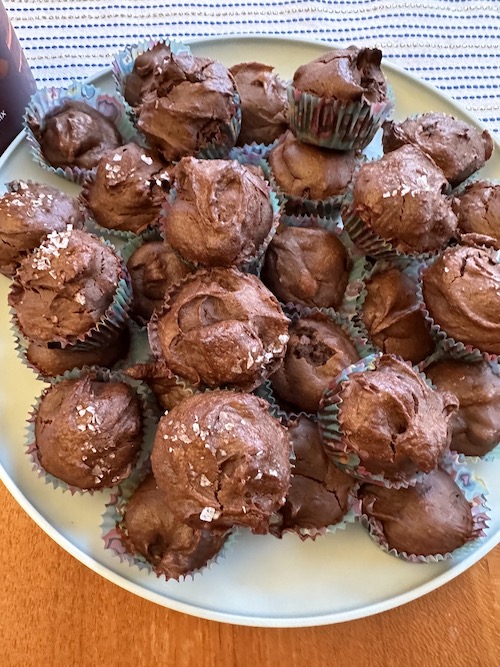 Naked Brownie is a high-protein, low-sugar brownie baking mix that starts with premium whey concentrate protein.
I decided to make them into brownie bites. I added a cup of pumpkin puree to the mix for some extra fiber. And then I finished them with a sprinkle of flakey salt. I just love the way they turned out. Look at these sweet little babies. And let me say, they were delicious. Very fudgey and not too sweet. They are the perfect little snack. Each bite is 5 grams of protein, with 3 bites being a serving!
Up next we tried the Naked Cake mix. And as much as we loved the brownies, we LOVED the pancakes. Naked Cake is a carefully crafted, protein-packed, pancake mix. With 22 grams of protein and only 5 grams of sugar per serving, it is the perfect way to up your daily protein intake while having a delicious breakfast. I dropped about a tablespoon of maple syrup into the mix and paired it with sausage links for even more protein! It was perfect!
The kids added more syrup to the top and devoured them. But, I like to make mine into pancake sausage tacos. They are like little protein packed McGriddle tacos. Delicious!
As with all of the Naked products, they've cut through the clutter and only included premium ingredients so you can be confident about what goes into your body. The mixes are  GMO-free, soy-free, certified gluten-free, and contain no harmful additives.
Naked Nutrition is nutrition with nothing to hide! They have so many great looking protein packed products that I want to try.  Check them out here.