Do you need a little getaway? A quick mini-break? An escape that's still close to home?  A long weekend with the family? The husband? The girls? A family reunion? Of course, you do. Who doesn't!?
How about a serene, peaceful, family-friendly place to get away from it all?
Well, if you're local to Cincinnati, Lexington, or the surrounding areas, I have the PERFECT place for you. We recently stayed at Cliffview Resort in The Red River Gorge and it was amazing. This is truly a hidden gem.
Yes, we stayed in the dead of winter and it was still an absolutely spectacular trip!
We ate amazing food. We hiked amazing hikes. We ziplined over amazing views. This beautiful area has so much to offer. Even in the winter!
They have several rental options, and we chose to stay at  The Lodge. The Lodge has 16 comfy bedrooms with private bathrooms and a super cool wrap-around porch with porch swings and a gorgeous view of the lake and gorge!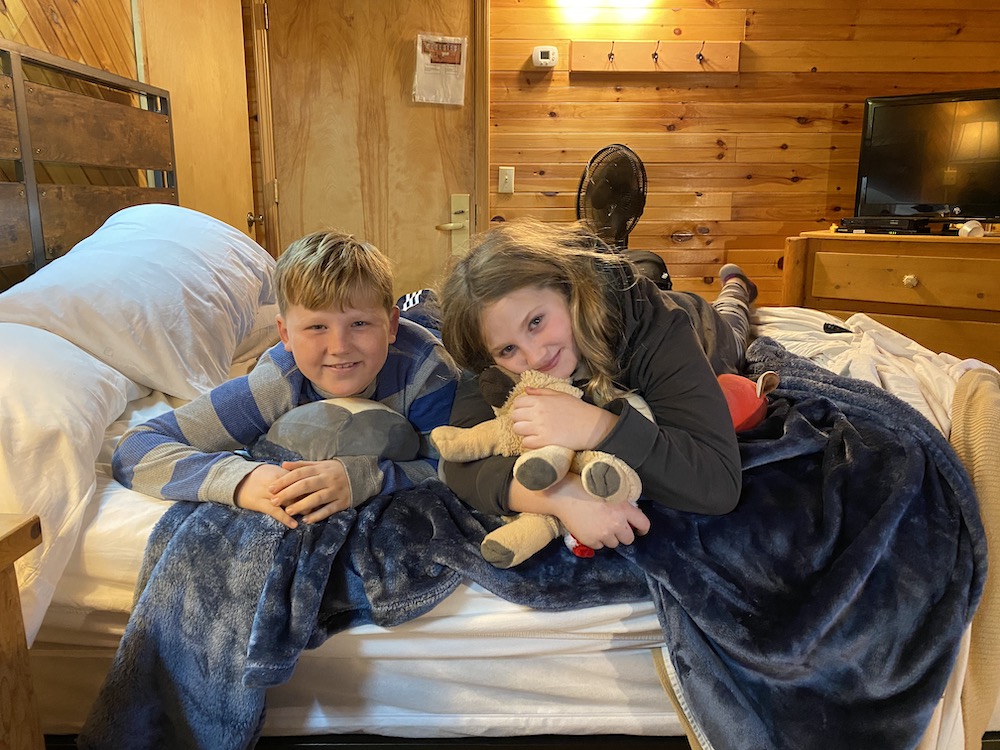 The living room area has a cozy fireplace and lots of couches. This space is shared with the other guests and there are lots of movies and games and books to check out.  We had a blast and picked a new movie and game each night.
There is a nice picnic and a firepit area outside too.  Which we totally took advantage of.
The kitchen is also shared and fully stocked with all the essentials. Just bring food.  There is even an impressive breakfast spread that the Inn Keeper, Janice, put out each morning.
Speaking of Janice…she was an absolute pleasure. And she takes her job seriously and was moments away for anything we might need.
This whole trip was exactly what we needed. It's only a couple of hours from home for us, so it's perfect for a quick getaway in any season. The hiking is out of this world. With over 29,000 acres and 500 miles of marked trails, you could go every weekend for a year and not even hike it all.
The rock climbing is world-class too if you're into that sort of thing. 🙂
Check out some of our hike sights. Breathtaking beauty.
Of course, you can't leave without ziplining. I've had the opportunity to zipline 6 times in my life.  And this one was BY FAR the best experience. I mean it…by far!!  Ziplining is so fun but can be very unfun and scary with the wrong guides. I have had those guides. The guides at Red River Gorge Zipline Tours made us feel immediately at ease. They were very professional and safe but super fun at the same time. They were the best!!  We loved every minute of it. The views were amazing (yes, even in the winter).
It was totally thrilling. And you get 20% off ziplining if you book your stay with Cliffview!  Stay and play!  Win. Win!  I can't recommend the zipline tour enough.
You should also check out some fun local things like the Nada Tunnel which was built for a long-forgotten logging town in the early 1900s! The tunnel is 12 feet wide, 13 feet high and 900 feet long. It's fun to drive through but you have to take turns with other cars coming in the other direction!!  The road takes you on a nice long loop in part of the Daniel Boone National Forest.
And don't miss Miguels Pizza. A climbers and campers paradise with the best pizza in the land. If you've ever been you will know the happiness seeing that smiley rainbow face can bring after a long day of hiking, or climbing, or driving, or camping …. (or let's be honest, even just sitting around).
The Natural Bridge State Park also has a lot of fun things to check out. The lodge there at the state resort has a nice buffet for breakfast and weekend dinners (plus swimming and clogging in the summer.) The park rangers even offer fun kids programs in the summer.
Cliffview Resort.  It's close, affordable, and perfect.  We love it.  It's Kentucky's number one getaway for a reason.  Check it out.  🙂
Disclaimer: I received lodging and/or services for a free or reduced-price in exchange for my review. As always my opinions are 100 percent honest.