Hi 'A Bird and A Bean' readers.  I'm back today with 5 fantastic, cheap, DIY ways to have a Derby Day Celebration with the kids this weekend.  Thanks for having me.  Happy Derby Day.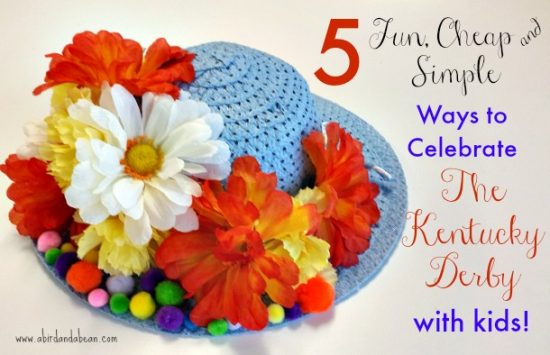 Elaborate hats, mint juleps in silver cups and lots of wagering. All are wonderful, adult ways to celebrate the Kentucky Derby. This year, to mark the 141st anniversary of the race May 1 and 2, I am creating a few kid-friendly ways to celebrate this great American sporting tradition. Each is budget-friendly and can be done in a few minutes.
I took a trip to the Dollar Tree and picked up $66 worth of supplies including hats, silk flowers, miniature traffic cones, a few bouncy balls, popsicle molds and some lemonade mix. I already had a glue gun, a variety of colored and poster paper, pom-poms and other bits and bobs.
1.  I wanted to create a traditional Kentucky Derby Rose Garland for the door. Using a piece of poster paper and a serving platter as a template, I created a horseshoe.
Next, I found a rose image online, cut it out and traced it onto red copy paper folded twice (to make the job go fast). I considered printing the design multiple times directly onto on the red paper, but like the varying designs I created.
I snipped a few leaves out of green paper and glued them to the wreath. I added a touch of glitter glue to the bottom and the petal swirls.
2.  Next, creating kid-friendly "mint julep" popsicles. I heated lemonade mix, water and some mint jelly in the microwave until the jelly melted. I poured the mixture into popsicle molds, tucked sprigs of mint into each and froze.
They looked so refreshing, I had to sample it!  Delicious!
3.  No Kentucky Derby is complete without ornate headwear. Check this out!
PHOTO CREDIT: www.stylelist.com via Wikipedia
Ahem! Because I am creating these DIY Kentucky Derby hats on a dollar-store budget, mine were a good bit smaller and more modest – but be as creative as you like! I started with straw sun hats suitable for a boy and a girl.
I cut and hot-glued flowers and pom-poms to the girl hat, using contrasting colors suitable for Kentucky in springtime.
I let my "bean," 14, create the boy version. I love how he added miniature trophies (four for $1!) around the brim. Of course, kids need close supervision when using a glue gun, so don't start on the mint juleps until the project is done!
4.  Now, we are going to create a Churchill Downs track and stage our own. We made simply horse hand puppets out of brown paper bags, raffia and glitter glue. This is a craft suitable for all ages!  Make them your own.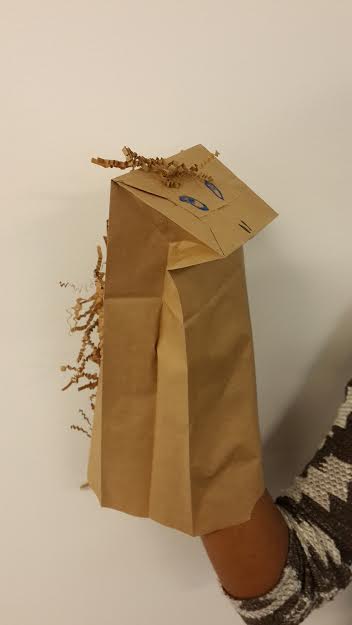 5.  And finally, the kids and their "horses" will kick balls in a relay around a track I created in the backyard using miniature cones. You can use any sort of markers you like.
If it turns into a free-for-all soccer game, so be it! We adults will be sipping real juleps and watching the race on the patio.
Marie Hickman is a writer specializing in money-saving ideas, cooking, crafts and travel. She is a contributor to Valpak.com and other websites devoted to fun, frugal living.
Follow her on Twitter at @MrsHickman777 and on Behind the Blue. She and her family live in Palm Harbor, Florida.
Check out Marie's other posts here.  You will be so glad that you did.