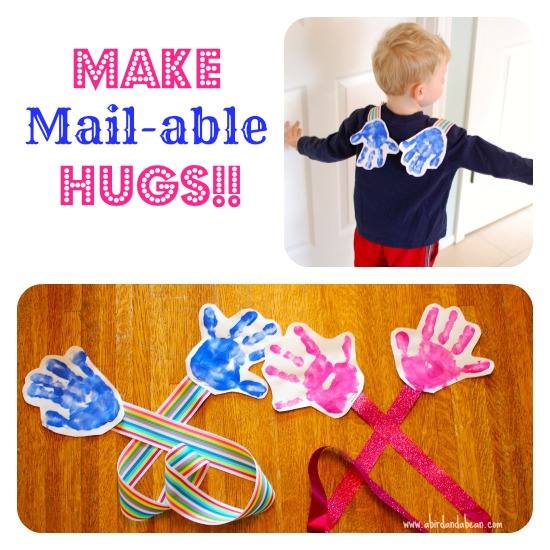 This sweet little craft of mail-able hugs was so easy.  The kids loved it.  (They would honestly put paint-y hand prints on stuff everyday, if I let them.)  I ripped this idea out of a Family Fun magazine from a few years ago (pre-Pinterest), and now I can't find a link.  Sorry.  Annnyway……
These are perfect to send to Grandma and Grandpa as a "Thank You Card".  (Which is what we used them for.)  But would also be a sweet for Mother's Day, Father's Day or as a birthday card!  Who doesn't love getting mail.  And most relatives would love to get a hug in the mail from far away babies.  🙂
What you need:
paint

paper
little hands
ribbon
stapler
What you do:
Paint up those little hands.  Stamp them on paper.  Let them dry.  Cut them out. 

Cut a length of ribbon (about the same length as the child's arm span).  Staple a hand to each end of the ribbon.
Have your child write little notes on the backs of the hands.
Send your hug to a lucky loved one!!