I picked this bad boy up at a yard sale for 50 cents over the weekend!  SCORE!  
I knew applesauce was going to be in our near future!  
It cores.  It peels.  It slices.  It's vintage and fun!  🙂  
And the kids thought it was super cool to make apple springs.  
They also thought it was hilarious to eat long peel strings!  
So did the chickens.  
Win. Win.  
And now we have delicious homemade applesauce in the fridge.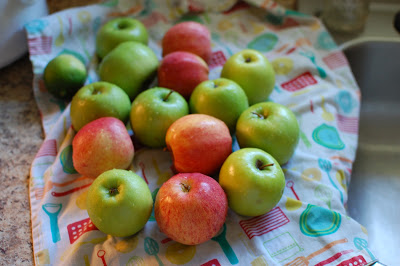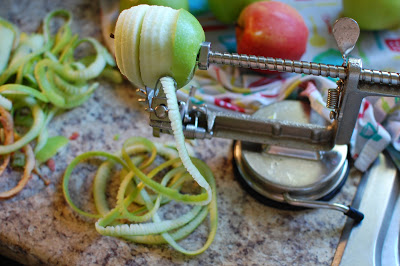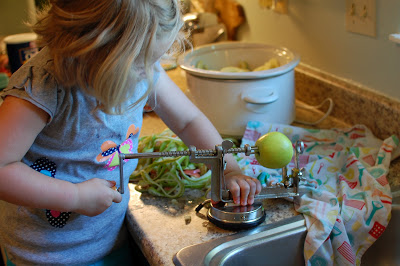 Win.  Win.  Win.  
Ingredients
3 pound bag of apples (peeled, cored, and sliced)(or in chunks, see above)
2-3 tablespoons brown sugar (or other sweetener)
Instructions
Place your apple slices in the bottom of a

Crockpot

.  (If you don't have a Crockpot, you can make it on the stove.) Top with brown sugar and cinnamon.  Add the water. (I always just make sure to add enough water to cover the bottom of the

Crockpot

.)    Cook the applesauce on low for 4-6 hours or until apples are tender.  Once the apples are tender, mash them with a potato masher for a chunkier consistency.  For a smoother consistency, mix in blender.
This is more an idea, than an exact recipe you need to stick to.  I try to keep mine pretty low in sugar, but if you like yours sweeter add some more.  Sometimes I add a handful of frozen berries to add some color and lend a slightly different flavor.  Get creative!
Freezing Instructions
Package in quart sized freezer bags or jars.   Thaw and enjoy!