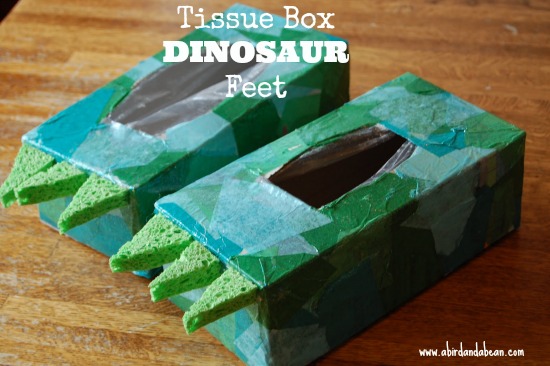 The kids thoroughly enjoyed this project. As soon as I saw it in the
March issue of Family Fun
I knew we had to try it. I could just picture the kids laughing and walking around in these things. I was right on. They didn't want to take them off. Ever. They giggled and chased each other around. It was too cute.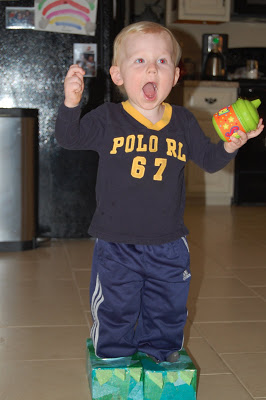 I know this last one is super blurry – but the way they are looking at each other just kills me! 🙂
The bird and I had a great time making them too. We chose to do it while the bean was napping. I considered having him help us. In the end, I'm glad we didn't, it was really, really cute seeing Lucie present them to him after he woke up. She was beside herself waiting for him to wake up so she could show him what we made. And he was SUPER excited to get them even though he had no idea what they were. Priceless.
The instructions in the magazine say to have the kids paint the tissue box. Instead we decoupaged it with tissue paper and glittery Mod Podge.
Mainly because I'm almost out of craft paint and I always have Mod Podge around.
But, also because I know how important it is for 3 year olds to practice cutting with scissors. It helps to promote fine motor development, bilateral integration skills (using both hands together) and the ability to cross midline. It helps to strengthen finger and hand muscles that they don't otherwise get to use much and it promotes sufficient development of the hand arches. Plus it helps hand-eye coordination And they LOVE to cut. Win. Win.
So I made her cut out every piece. Mwhahaha. And she loved every second of it!
So, Lucie chose the colors of tissue paper and I handed her the scissors. She was thrilled. She thought it was the greatest project ….since I don't often give her free range of the scissors like that. She cut and cut and cut. Then I broke out the glittery Mod
Podge
. 🙂 Heaven. Scissors, glitter, paintbrushes. It couldn't get any better.
glue – for attaching the toe nails (I used hot glue)
Use the duct tape to reduce the size of the opening a little bit and to reinforce the opening as well. Paint (or glue tissue paper to) the box. Let it dry. Cut triangles out of a sponge or cardboard. Hot glue these to the box. Done. Stomp around the house. 🙂
They kept them on most of the day. They watched '
toons
with them on. Had snack with them on. Played with them on.
Lucie even helped me clean with them on. She cracks me up. 🙂
This post may contain affiliate links.