There are so many reasons to visit Mammoth Cave and the whole Cave City area.   There's really so much to do that you can't even fit it all in one trip.  Caving, zip lining, hiking, kayaking, canoeing and horseback riding!  Plus alpine slides, Dinosaur world, KY Down Under Zoo, museums and more.  It's close enough to Bowling Green for a day trip.  There's the Lincoln's birthplace, Fort Knox, and the Bourbon Trail.  And of course, the Mammoth Cave National Park.  SO MUCH to do!  We recently went for three amazing days and have already planned a trip back in the fall because we didn't get to everything that we wanted to see!
And there is only one place you want to stay when you visit Mammoth Cave.  Jellystone Camp and Resort!
 Seriously.  This place has everything you could possibly want.  No tent?  No camper?  No problem!  They have so many cabin options that you will find a perfect one for you.  And they offer cool activities all day long, so you could actually stay busy and never even leave the park.
Here are my top 13 reasons for staying at Jellystone Mammoth Cave!  I can't wait to go back.
 There are so many accommodation options!  You can tent camp, hook up your camper or RV, or rent an amazing cabin!  We opted for the cabin.  They have over 70 comfortable cabins to choose from.
We stayed in the Bluegrass cabin, because it came with a golf cart!   It had an amazing porch, a loft with 2 full sized beds and a separate bedroom with a queen bed plus a full kitchen and a dining area!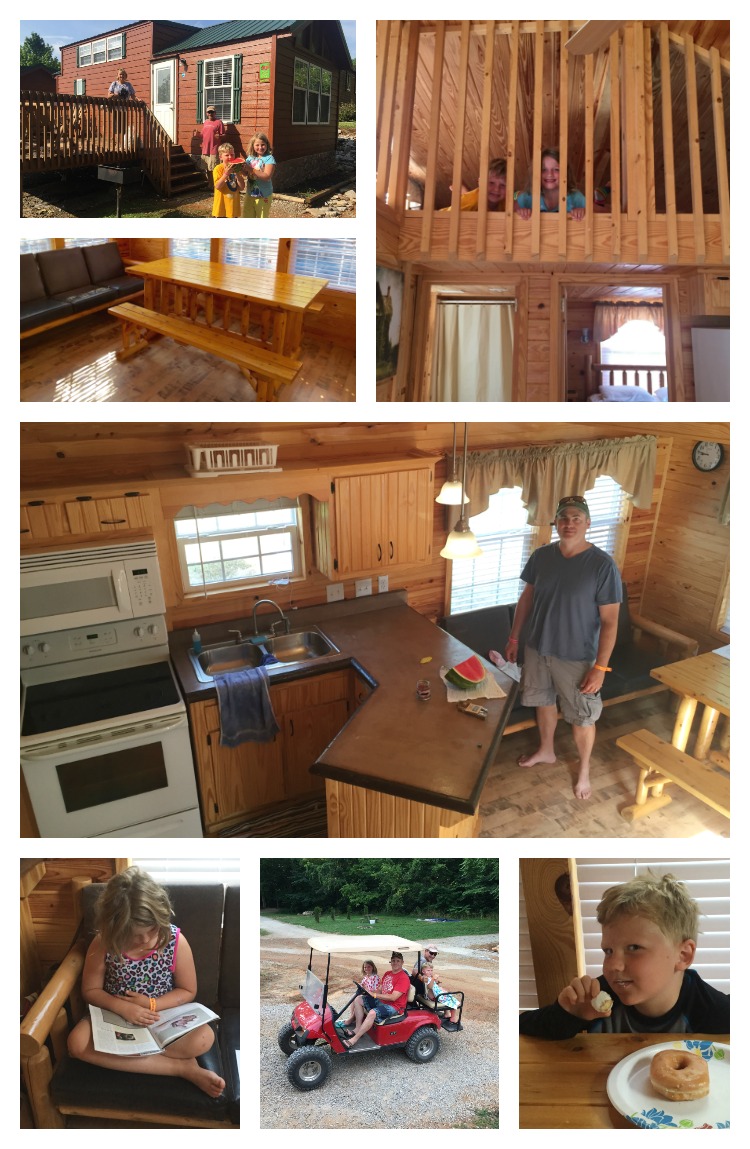 You can also rent golf carts for any cabin or tent or RV space.
We had a blast.  We grilled out, cooked hotdogs on the fire, had coffee on the porch, played games at night.  It was perfect!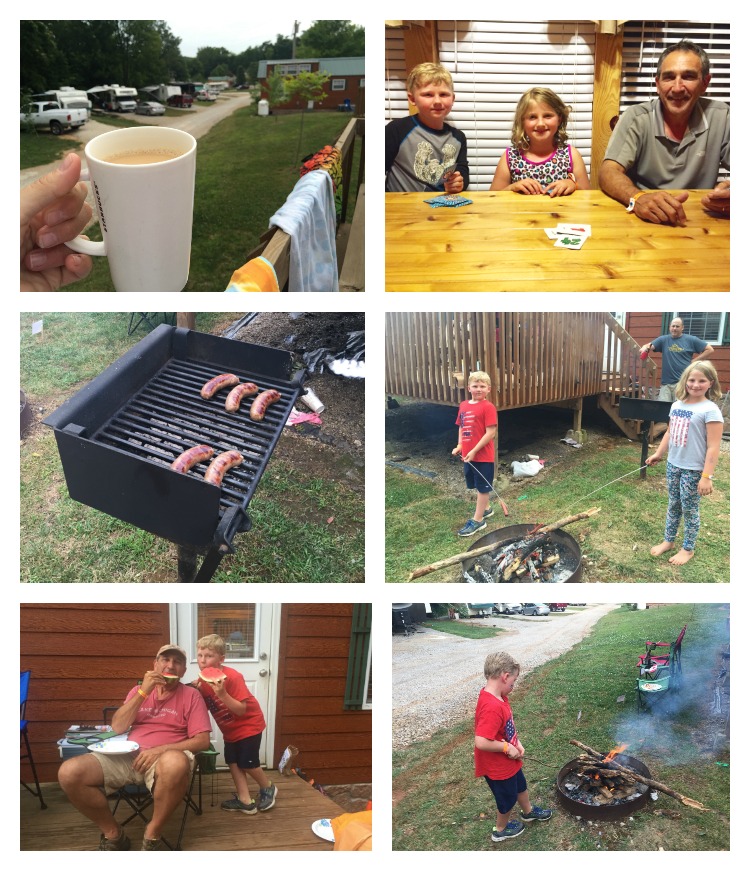 2.  They have so many awesome things to do right on site.  Like a 300 foot water slide!!!  I couldn't peel my kids away!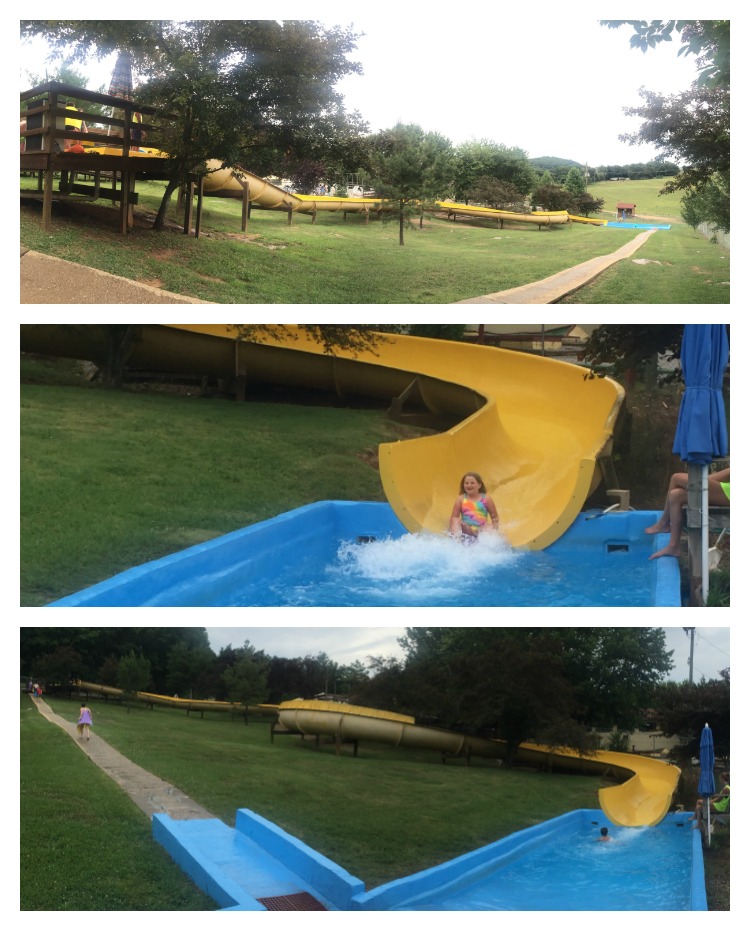 3.  They have TWO pools.  And a splash pad.  That is some serious water fun!  (They also have an inflatable water balloon battle field, a game room and mini golf.)  🙂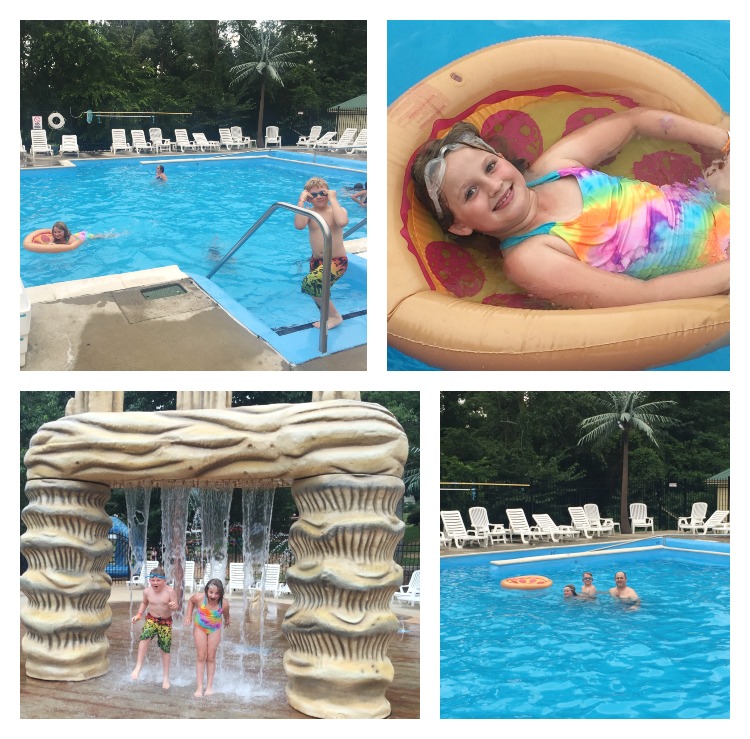 4.  A fishing pond.  My husband and kids were super excited about this one.  I sat in the gazebo and watched them feed the ducks and catch some fish.
5.  Jumping Pillow!  Need I say more?!  This is a super fun activity for kids and adults, too.  I tried it out.  So fun.  I was exhausted.  The kids jumped everyday that we were there.
6.  Playgrounds!  Fun times.  The kids played.  I read a book. Perfect!

7.  Ranger station and gift shop.  The Ranger Station is a fun place.  They sell gift and things you may have forgotten at home.  They have packets of powder to change the color of your campfire!  You can buy pizza and other tasty treats.  My kids go their first taste of Yoohoo and loved it.  Oh sweet, watery, chocolate nostalgia.
8.  Art and craft time.  My kids circled all the craft times on the schedule so we wouldn't miss any.  Most are totally free!  Some (like ceramics and t-shirts) cost a little bit.  We stuck with the free ones and were perfectly happy.  They also have different activities like hayrides and faceprinting and movies throughout the day.
9.  Yogi Bear sightings and hugs.  You can catch up with Yogi Bear and the other characters at different places during the day.  Hayrides, at the flag pole for the pledge in the morning, or sometimes just driving around!
10.  Fun themed weeks.  The campground has different themed weeks through out the year and they are all amazing.  We were there for the 4th of July and it was totally booked.  But, it didn't feel crowded because there are so many things to do onsite.  There was a fun decorated golf cart parade and an awesome fireworks display at night.  I heard Halloween is a great week to go too!  Check out the schedule.  Every week is sure to be a blast.

11.  Waffles.  haha.  My family loves waffles.  They have all you can eat waffle breakfasts at the Ranger Station for just a couple of bucks!
12.  Meeting the camp neighbors.  This is one was a fun surprise to me.  The neighbors and kids all hung out and played in the street.  It was like going back in time.  We had so much fun.  Camp people are awesome!
13.  The staff is all super sweet, helpful and friendly.  My kids loved the arts and craft staff.  They were great and really cute with the kids.
If you're heading to the Mammoth Cave area for some caving and sightseeing, I highly recommend Jellystone Mammoth Cave.
I can't imagine staying anywhere else.  It was such a blast.  We had so much fun sightseeing, but couldn't wait to get back to Jellystone and our cabin each day.