I can't believe it's already December!!??  Seriously, how did that happen?  We even got our first snow last week.  It was just beautiful.  I love how everything looks and feels and sounds with a fresh blanket of white on everything.  We didn't get enough snow to actually go sledding or build a snowman with…..but it was still snow!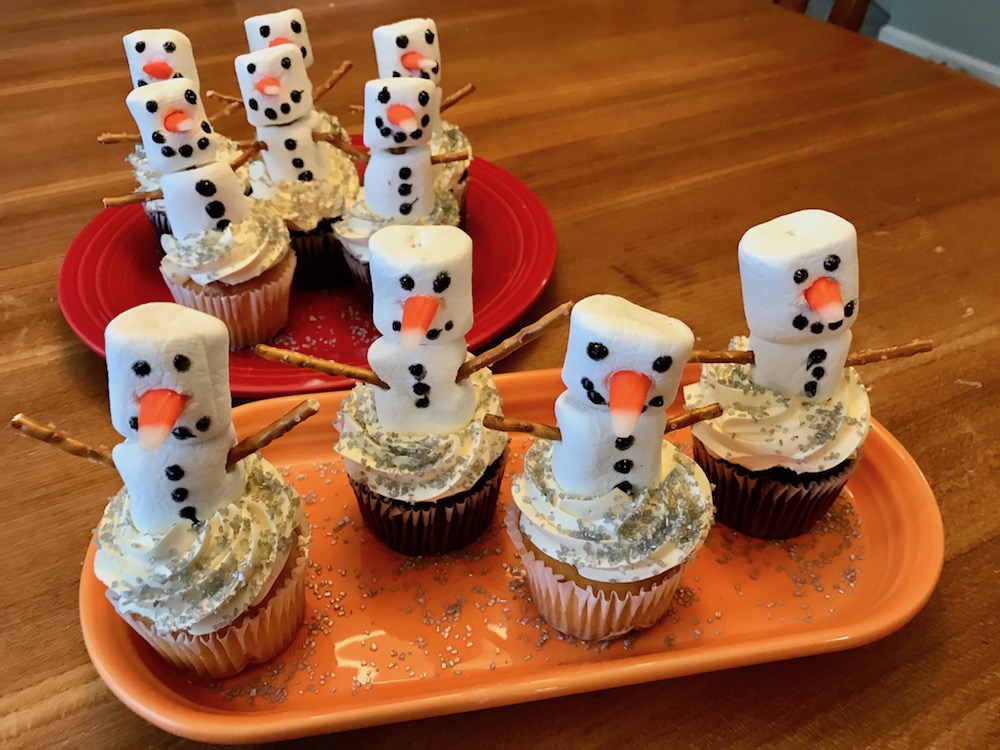 The kids had been asking if they could make cupcakes for a while.   So we decided it would be fun to make a sweet treat to share with our neighbors to celebrate our first snow day!  Why not!?  Naturally, we landed on snowman cupcakes!!
Now like most kids… mine LOVE baking!  But the thing is… I LOATHE it.  I can't stand the measuring and the exactness and the mess of it all, which I'm left to clean up!  AHHH.  I just can't.  So, we took ourselves to Kroger and just BOUGHT the cupcakes, made with perfectly sweet whipped icing.  (Genius, I know!)  I mean, the Kroger bakery has professionals with all kinds of professional supplies.  We can't compete with all that in our kitchen.  hahaha.
Then the kids got to concentrate on actually decorating the cupcakes and there was hardly a mess to clean up!  WIN. WIN!
These sweet snowman cupcakes are so simple!!  Here's what we used.
They had a ball making their little marshmallow Snowmen.  We used a chopstick to make the holes in the marshmallow for the pretzels and candy corn.  You could use all kinds of different supplies.  Let your imagination run wild.  Fruit roll ups for scarves, mini chocolate chips for eyes and smiles, rolos for hats….the sky's the limit.  I think they turned out so cute.  We even finished the cupcakes with a little bit of silver sanding sugar.  So sweet!
Ask for Whipped
I asked the Kroger bakery to ice our cupcakes with whipped icing.  We like it a lot better than regular, butterfat icing.  Have you ever had it?  It's so light and lovely.  It has such a creamy, fluffy texture and perfectly, balanced sweetness.  It's so smooth and it's just sweet enough.  It compliments the cake so well.  Plus, it has less sugar and fewer calories than butterfat icing and no trans fats.  So, WIN. WIN…. Again!
We went with their seasonal Cream Cheese Whipped Icing.  OH MY GOODNESS.  It was delicious.  They offer all kinds of other fun flavors, too.  Cookies 'n Cream, Salted Caramel, S'mores, Mint Chip, Strawberry and even Lemon.  Plus, they have limited-edition seasonal flavors as well!  Mmmmm. You can customize your cake or cupcakes any way you like.
Pop into your Kroger bakery today and Ask for Whipped to try the Cream Cheese Whipped Icing or another flavor!  It's available in greater Cincinnati Kroger stores and nationwide.  Of course, you can also call ahead and place a custom order and have it ready to pick up for all the holiday parties.
Check out Ask for Whipped. And follow them on Instagram for all kinds of tasty dessert ideas.
This post is sponsored by Ask for Whipped/Rich Products.  All thoughts and opinions are 100 percent my own.  Thanks for following.