This is a sponsored post written by me on behalf of The Hershey Company. All opinions are 100% mine.
Birthday parties are the best.  My kids LOVE helping plan every single detail of their parties.  I love letting them help as much as they want, because there is no day more special than a child's birthday!  And because I think being able to planning events is a good skill to have.  They get really into it and enjoy thinking up the themes.  They actually come up with ideas for next year's theme and party as soon as we are done with this year.  They constantly grab my phone and ask Siri to show them amazing cakes and cool decorations.  They just love it.  It's pretty funny.
And I'm a crazy busy mom so I actually love keeping it as simple as possible, but I still want to let the kids be involved.  But juggling those two things can be kind of difficult.  There's one choice that is guaranteed to help me keep it simple and also special.  The new Hershey birthday-themed products!  Yay for simple.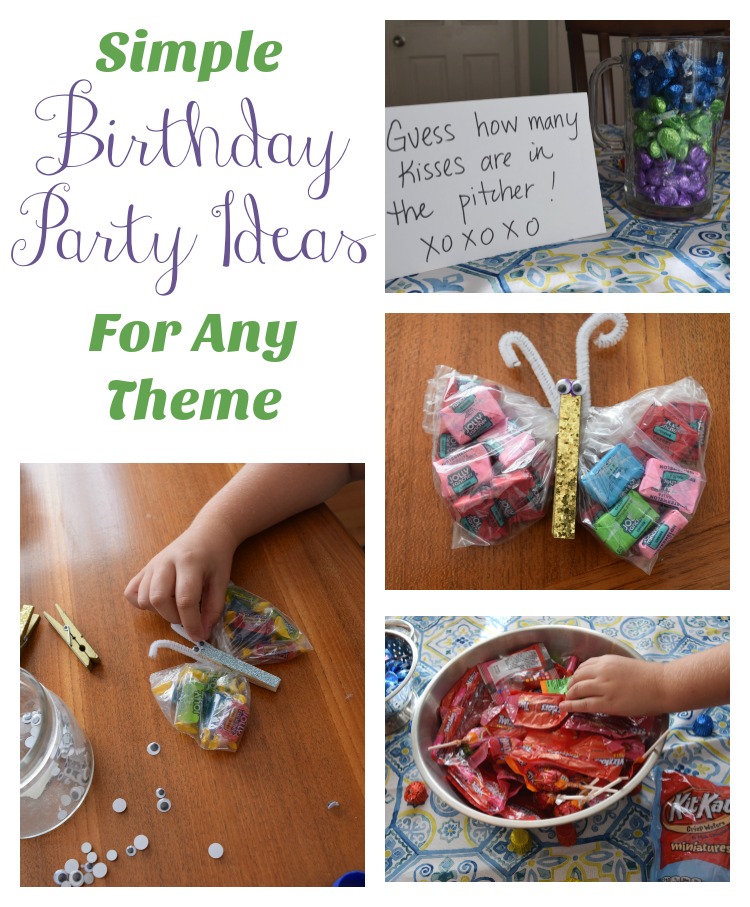 Have you seen these new birthday products from Hershey?  Oh man.  So many cool options.  You can decorate with them, use them for games and prizes, goodies bags and favors, and even crafts!!  We did a little bit of all that with ours.
We made a SUPER simple craft that we will use as a goodie bag and favor for the party.  Guests can take home our little candy butterfly.  The kids loved making these guys.  How cute are they?  And EASY!  We had everything we needed in our house.  Doesn't get much more simple than that!
You can check out the birthday-themed display in the party zone at Walmart.  The colorful display has plenty of everyone's favorite candies, all dressed-up in their birthday best.  So fun!   Grab all the things you need in one spot and check that off of your shopping and party to-do lists.
First of all there is a new Hershey's Kisses flavor.  Birthday Cake!  WHAT!?  They pack the taste of birthday cake into one tasty, crunchy bite and are perfect for any birthday theme.  They are so stinking good.  How do they make them taste like cake?!  They are a must try.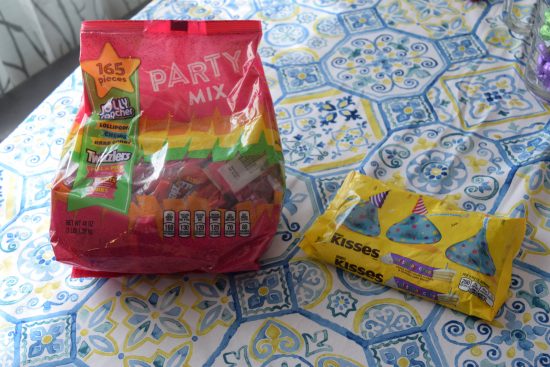 There is really something for every theme.  There are Hershey's Kisses Chocolates in brightly wrapped foils to fit any birthday theme and color scheme and help make the day that much sweeter.
We picked our colors and used them for a simple game.  "Guess how many kisses!!"  A classic that's always a hit.  Winner takes home the pitcher!
Invite Hershey to your next birthday party and you're sure to sweeten that celebration. Birthday parties with Hershey's are great!  You can find the full line of birthday-themed products from Hershey in the Celebrations aisle at Walmart stores nationwide and most birthday-themed products at other select retailers.