This post brought to you by ZTE Grand X Max 2. The content and opinions expressed below are that of A Bird and a Bean.
We went on the most amazing vacation last week.  Seriously.  It was perfect.  My husband chose the location after seeing it mentioned on a Nat Geo show while flipping through channels one night.
It's an island in the middle of Lake Michigan called Beaver Island.  It's about 55 square miles with a population of about 600.  He found us a cabin to rent and away we went.  It's got a craaaaazy history.  But, now it's a great destination for those want to get away.  And we did!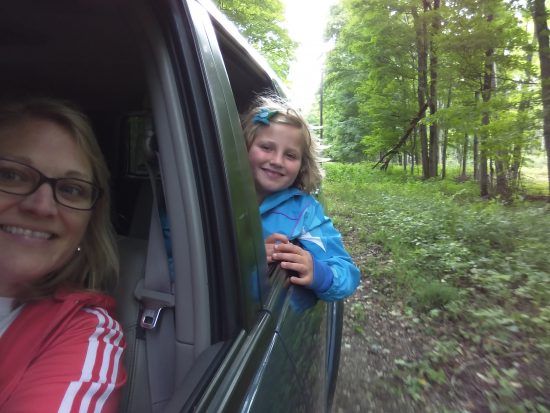 Fishing, swimming, kayaking, hiking, biking, boogie boarding, sightseeing, relaxing.  It was just perfect.  Wild and wonderful.
I was excited to test out my new phone on our vacation.  The ZTE Grand X Max 2.  It's a Phablet.  haha.  What?!  Yes, it's a thing.  A phone tablet!  Clever, right?!
It has a huge 6' FHD LCD display and really great camera capabilities that I was excited to try.  With a wide angle front camera and dual rear camera, I could take some really great vaca shots.  It also has a neat bokeh effect setting.  You can get that aesthetic quality of the blur produced in the out-of-focus parts of an image produced by a lens.
So, the first couple of days I had a great time playing with the phone.  The kids had some time with it, too.  Taking pictures and playing games.  It has great streaming and audio quality.  Dolby Audio and Hi-Fi Music.  It runs on android Marshmallow OS.  (I love the names android comes up with!  YUM.)
And then…..my husband went swimming in Lake Michigan with the kids.
I was enjoying some quiet time with a book on the beach.  An actual PAPER book.  Remember those?  So relaxing.  I had forgetting how much I like reading.  haha.  I was about half way through Ready Player One when he came back to the beach.   Over an hour later, with his phone in his hands.  Dripping.  Yeah, he left it in the pocket of his swim shorts THE WHOLE TIME!
And just like that my new phablet becomes his new phablet!
He loves it because it fits in his hand so well.  He likes it so much better than his old, wet, dead phone.  Even before it was wet and dead!
The Grand X Max 2 is the perfect phone for exceptional entertainment, photography, and productivity.  It's all you want in a tablet and a phone, together in the palm of your hand.
Want to check out the  ZTE Grand X Max 2 for yourself?  It's exclusively at Cricket and is currently only $129.99 when you bring your number to Cricket!  That's serious value and a reliable 4G LTE network with great coverage.   And it's just $169.99 for existing Cricket customers.
Locate a Cricket Wireless authorized retail location near you.
Buy ZTE Grand X Max 2 for $129, port number to Cricket and activate a new qualified plan, minimum $40 per month. Fees, other charges & restrictions apply. See store for details.