Kings Island!  It's the biggest amusement and water park in the midwest.  And I love it!  When I was in high school my friends and I would get seasons passes and go up when ever we wanted.  Good times.  But, I hadn't visited since having my own kids!  And my oldest is NINE!!!  WHAT!?  Shameful.  So, we were well over due for a trip.  We headed up for some roller-coaster-water-park fun last week.  And it was a blast!
It was just as much fun as I remember.  Even more actually, because I got to watch my kids enjoying all the things I did.  Oh sweet nostalgia.  And they've added so much.  New rides, new attractions, new features and a water park (I know it's not "new", but  it was new to me!)
We really enjoyed one of the new features called Fun Pix.  You get unlimited digital park photos all day with the Fun Pix Pass!  You get a card with a code and a lanyard.  At the rides,  you just tell them which picture is yours and they scan it and then it's loaded into you account.  We got to keep all of our ride pictures ALL day.  So, I get to remember all the crazy fun we had.
Like my daughter's FIRST ride on the Beast (my favorite roller coater in the whole world).  And we even waited for the very front seat!
Or this little gem, of my husband being terrified on the Banshee.
I think he liked the Vortex better.
I braved the Diamond Back with my adventure junkie 9 year old.  I did it.  And now I can check it off of my bucket list.  80 miles an hour is a bit too fast for me.  But, I have a picture of it!!  Look how much fun I'm having.  hahaha
My son is scared of roller coasters, but we got to fool around on the kiddie coaster in Planet Snoopy.  (formerly the Hanna Barbara Land of my childhood!!  Who remembers Hanna Barbara Land?!)

Race for Your Life Charlie Brown is in Planet Snoopy, too.  It's a fun log ride and you get really wet.  Perfect for hot days.  My son clearly loved it.  bahahah.  His face is cracking me up.
And the old Beastie is now Woodstock Express.  So fun!  I really need to stop screaming and shut my mouth on these rides.  I mean, seriously.  I probably ate a bug or two.
Even though it rained and stormed while we were there, we had such a fun day.  I got some good advice from my friend Nedra (aka Adventure Mom) before I went.  One of the many perks of being friends with Adventure Mom.  Personalized adventure advice!  She and her family are Kings Island Pros!
Here are a couple of tips that were good for us.  We were visiting Kings Island on a budget with little kids. So these won't all apply to everyone.  But these tips really helped us.
 1. Take a picture of your parking sign.  Don't get lost.
2.  We got one meal plan for 30 bucks and split something every hour and a half.  Saved SO much money on food that way and were never hungry.
3.  I also brought an empty bottle that we refilled with free ice waters all day long.  Don't get dehydrated!
4.  I wore a backpack.  I included sunscreen, hats, hand sanitizer and the empty water bottle.
5.  You gotta get the Smurf Ice Cream.  (They have cheaper kiddie-sized ones, not on the menu!  Just ask.)

6.  Is it raining?  Watch a show or take the train to Soak City.
7.  Get a waterproof case for your phone so you can wear it around your neck all day and at the water park.
8.  Enjoy the Eiffel Tower.  It's pretty in the day and at night!!  It's a quick elevator ride up and a great place to watch the fireworks at 10:00.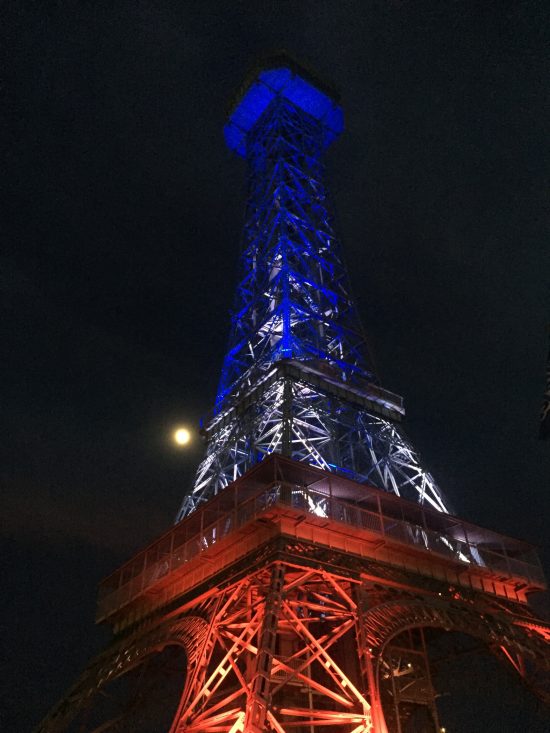 9.  Ride the big water ride last so you can change in the car, or right before you go to Soak City in your swimsuit.  Because you will get DRENCHED!  (This is before.)
10.  The Fun Pix Pass is a really cool keepsake.  Especially for your first time to Kings Island.
It's so easy.  When you get home you can log into your account and check out all the pictures from your day.  There are cool borders you can add to your pictures through out the park.  Just scan the code at certain spots and open the app.  It's not just "Ride Photos", either.  You can get pictures with Peanuts characters and professional pictures from roaming photographers through out the park, as well.
"Kings Island is the largest amusement park and water park in the Midwest. And for good reason. Start with the thrill rides. The 5,282-foot, 80-mph Diamondback roller coaster. The Beast that travels across a 35-acre site at 65 mph. WindSeeker, which takes you 301 feet above the park for an unparalleled swing ride. Then there's the Vortex, where you go through two vertical loops, one corkscrew, one boomerang turn and a 360-degree helix. Those alone are probably enough to make us the largest amusement park in the Midwest. Then there's the kid-centric fun like Planet Snoopy. There's also Dinosaurs Alive!– 60 life-sized dinos spread across seven acres of Jurassic thrills. Then there's what completes our being the largest amusement park and water park in the Midwest – Soak City. Huge slides, wave pools and rushing rivers. It's what makes us the largest amusement park and water park in the Midwest. Kings Island. Thrills Connect."

Have a great day!