This is a Sponsored post written by me on behalf of Sharpie®. All opinions are 100% mine.
I love all school supplies.  That's no big secret!   I am a teacher after all.  But, I LOVE, LOVE, LOVE Sharpies!  🙂  I bought a big  Sharpie® pack of 24 a few years ago and they are still going strong.  I use them for just about everything too and only a few have dried out in almost 4 years!  That's amazing.  I even have a whole box in my craft room labeled "SHARPIES"!  They're just so useful.  And there are so many kinds.  Neon, just for fabric, brush tipped, retractable tips, the list goes on.
I really want this pack of 12 fine tipped ones.  Aren't they pretty?!   I could use them for our Christmas cards!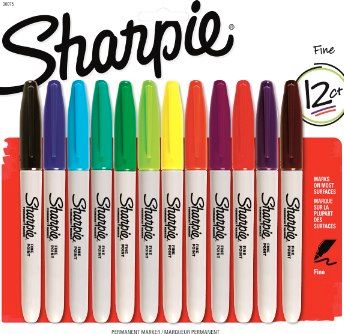 They have new metallic colors like silver, gold and bronze!  Those would be fun to use for Christmas too!  Maybe fo place cards on the table?  Or wrapping presents with a dark colored paper and then writing the names right on the gift with silver or gold!  Fancy!
There are all kinds of fun and clever ideas on Pinterest.  Check out some of these ideas.  I have seen some cool round ornaments with Sharpie® decorations that I would like to try out.
You can follow Sharpie here.  Or you can follow A Bird and A Bean here.  Do you love Sharpies as much as I do?