I'm excited to share these three recipes with you today!  Sandwiches are such an easy meal. snack or even a dessert.  Here are three great sandwich recipes for you to try.
First up.  I made these simple Bacon Filled French Toast Sticks and they were devoured.  My kids loved them.  They are a perfect and simple breakfast.  Bacon, bread, eggs and syrup.  Perfect.  Whip them up before heading out to the pool this summer.
Bacon Filled French Toast Sticks
What you need:
3 eggs
I pound of cooked bacon
cream or milk
1 loaf of Healthfull bread
What you do:
Cut the crusts off of the bread.
Using a rolling pin (or a glass) flatten each slice of bread.
Whisk together three eggs and 1/4 cup of cream.
Dip each slice of bread in the egg mixture.
Carefully roll each slice of bread around a piece of bacon.
Place them seam side down on a greased griddle or pan on medium heat.
Turn them often until browned on each side.
Serve with syrup for dipping.
Watch them disappear.
The next recipe is great for lunch, dinner or even a hearty snack.  We love our Sandwich Maker and use it all the time.  If you don't have one, you can just grill these, but seriously, you should get one!  I have one like this and it was 15 dollars well spent!  You can fill them with anything your heart desires.
Pepperoni Pizza Pockets
What you need:
Mozzerella Cheese
Pizza Sauce
Toppings (we used olives, banana peppers and mini pepperoni)
butter
What you do:
Thinly butter the bread.
Place one slice of bread, butter side down, in each well of the sandwich maker.
Place cheese on top of bread.
Add toppings of your choice.
Top with a teaspoon of sauce and more cheese.
Place remaining slice of bread on top, butter side up, and close machine.
When the light turns green, take it out and enjoy.
Oooey-gooey cheese and pizza toppings, these sandwiches are great.
And last, but not least.  You can make grilled sandwiches for dessert!  Like a smore, but with out the camping.  I used strawberries and coconut spread, but Nutella and banana would be divine also!
Strawberry and Coconut S'more Sandwiches
What you need:
Mini Marshmallows
Strawberries
Coconut Spread
Butter
What you do:
Butter each slice of bread.
Spread the coconut on to each slice of bread (not the buttered sides)
Top with mini marshmallows and thinly sliced strawberries.
Place the sandwiches on a medium hot griddle or pan, buttered side down.
Grill them up.
Eat them up.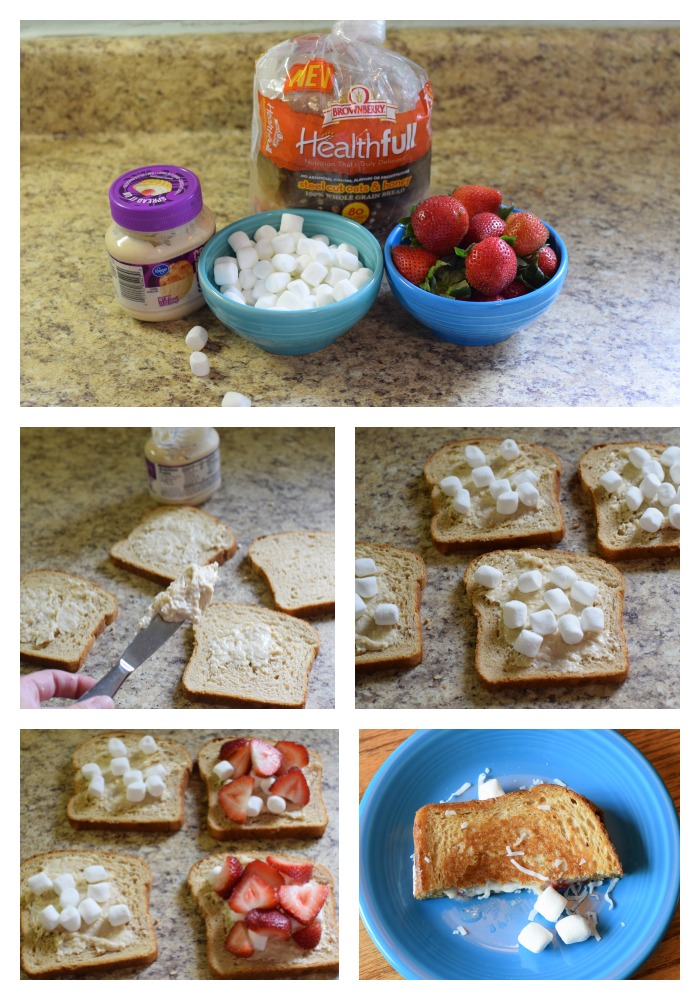 I swapped out our regular bread for the new Brownberry Healthfull bread for a week and for these recipes.  We loved it.  First of all, it's made with 100 percent whole grain flour!   And it has no artificial colors, flavors or preservatives, and it's just 80 calories.  We liked it because it was so fresh and light.  It's a good source of fiber and contains no high fructose corn syrup!  We tried all three varieties….Flax & Sunflower, Steel Cut Oats & Honey, and Nuts & Seeds.  They are all great.
Would you like to try some for yourself?  Enter below to win a $25 Visa card and coupons for free bread, so you can #LoveYourBread, too!
Disclosure:  The coupons for product redemption, information, and gift card have been provided by Brownberry Bread so that I could try the product and share my thoughts and information about Brownberry Healthfull Bread. As always, the opinions expressed in this post are 100 percent my own and do not reflect the opinions of Brownberry Bread.