We had the opportunity to check out the new Imax original film showing at the Cincinnati Museum Center. It's called Superpower Dogs and it was really a great film.  It was very well done with all kinds of stunning visuals that are made just for the Imax screen. It was impressive.
My dog-loving kids sat absolutely spellbound throughout the entire movie.  And I may have even cried. Seriously, it was really heartwarming and very fascinating.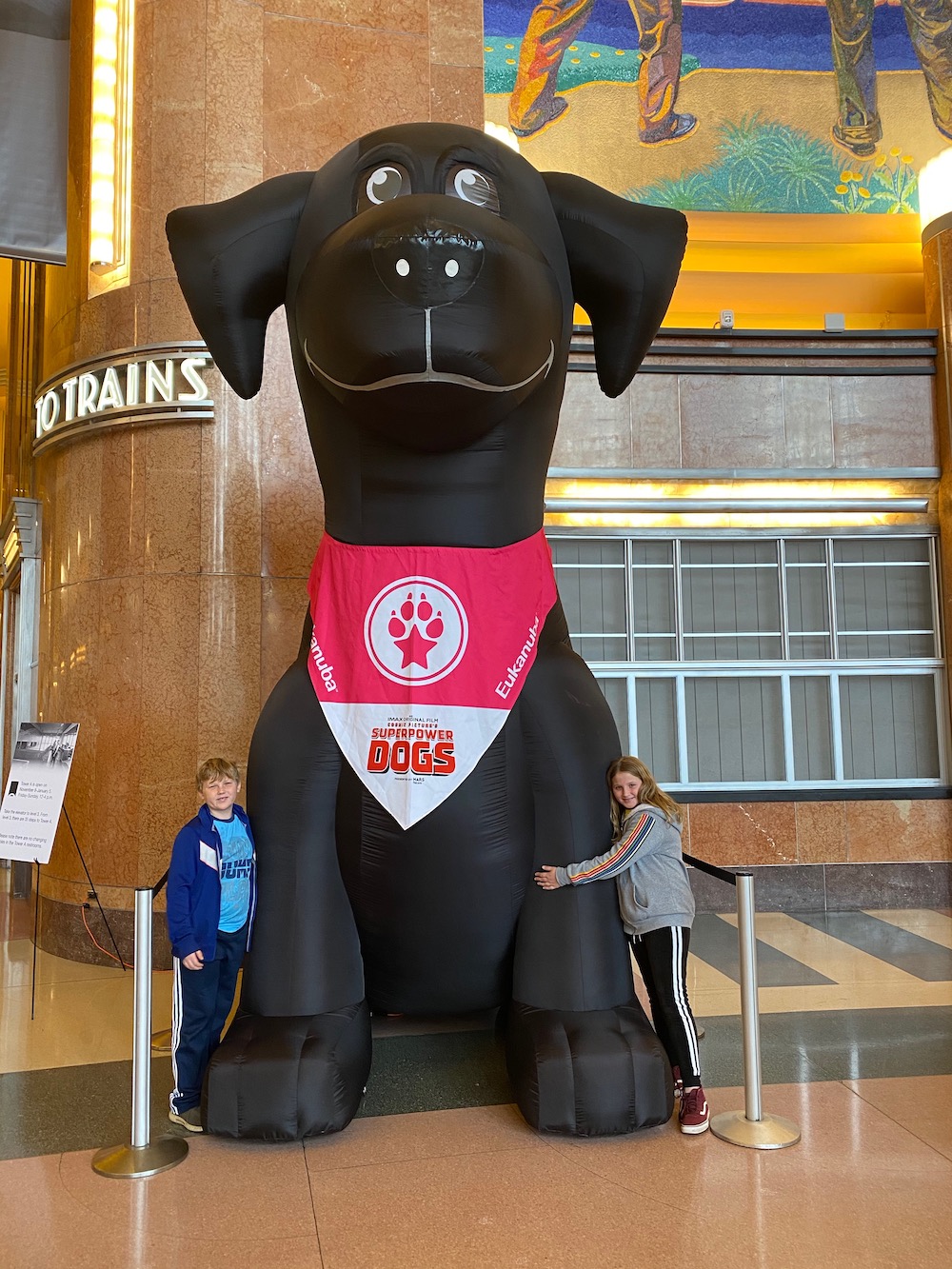 It's narrated by Chris Evans and follows six dogs and their handlers through their journey. They are all remarkable lifesaving dogs.
It is seriously amazing the things that these sweet canines can do. Their jobs are hard and they are brave.
There is an avalanche search and rescue dog named Henry.
And an adorable disaster response dog named Halo.
There is a beloved therapy dog named Richochet.
There's an awesome big ole' Newfoundland water rescue dog named Reef.
But my personal favorites were the two Bloodhound brothers called Tony and Tipper that help protect endangered species from poachers.
The movie shows the science behind the dog's superpowers, which is right up this homeschooling mama's alley.
It shows the science in a really neat way….showing us how the dogs smell, or run, or swim so we can see it as the dogs do.  See that cool blue fog in the picture….that's how far the dogs can pick up the scent.  Really fascinating.
My 10 year old said this…..
"I really love dogs so I was happy that my mom took me to see this. liked that I could see all the different types of dogs in the movie and all the different types of jobs they can do.  My favorite one was the snow rescue dog because I love to go skiing and avalanches are so scary.  His name is Henry and he is a very pretty Border Collie. I think that is a great bredd of dog that I would like to have someday.  I really think this is a great movie for kids to watch.  It was very interesting to learn of all the jobs you can do with dogs when you grow up.  I liked when they hound dogs were sniffing out the smells and how they made it so we could see it too. That was pretty cool.  The idea that you can have a job with your dog intriuged me very much.  The trainers have to do so much work too.  The dogs and the owners were very brave. I think it is a great idea for everyone to watch this movie."
So, there you have it.  From the mouth of a child.  🙂  "Everyone should watch this movie."
And the way they filmed it was spectacular.  The views that open up on the giant Imax screen.  It was gorgeous.