I love fall.  I love food.  I love fall food.
I mean, I guess I could call it football or tailgating food, but I don't actually watch any games.  hahaha.  And, it's juuuussst starting to feel like fall here and it's got me all exited and wanting to wrap up in a hoodie and eat chili and drink cider!  Anyone else?  It's my favorite season of all!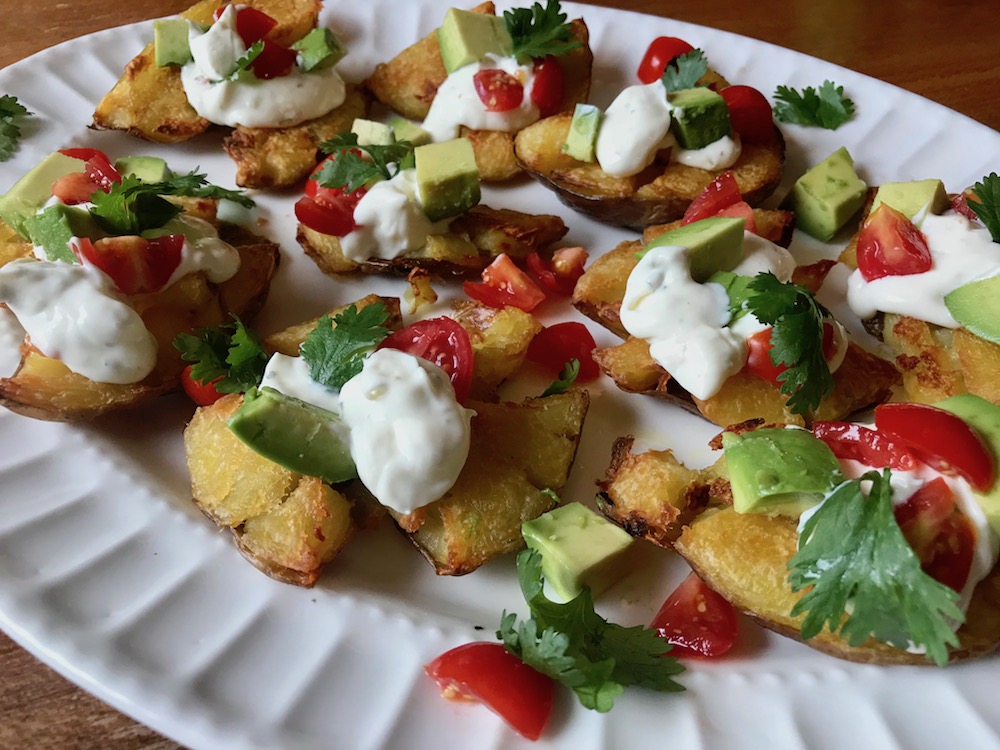 And one of my favorite blog partners, Produce for Kids, is winding up their own FALL campaign with Meijer right now, which goes on till September 29.  This campaign helps spread the message of healthy eating while also raising funds for Jump with Jill.
How does it work?  You shop at your local Meijer store and help raise funds for the great program Jump with Jill, the world's only rock and roll nutrition show for kids. Jump with Jill uses music to spread healthy eating habits to children!  It's so fun! You can read more about it here!
I made these simple, delicious, snack-able Fiesta Smashed Rose Potatoes using several products from the sponsors and Meijer!  Check it out.
What a great cause.  And what a tasty dish!  My family gobbles them up.  Plus they're baked and have lots of good ingredients.  Perfect for game day!  They are crispy, and fluffy, and light and delicious.  They're like a lighter potato skin, so perfect as an appetizer or party food.  They make a tasty side dish and we've even eaten them alone for a meatless dinner.  So versatile.
Fiesta Smashed Rose Potatoes
She thinks its funny that she and the potatoes have the same middle name!  hahaha
What you need:
6-8

small

Green Giant™ Fresh Klondike Rose®

 potatoes

2

tablespoons

extra virgin olive oil

1/2

teaspoon

garlic powder

1/2

teaspoon

salt

1/4

teaspoon

pepper

1/2 cup chopped SUNSET® tomatoes
1 diced avocado (from Mexico!:))

4

tablespoons

Marzetti®

 Ranch dip

2

tablespoons

cilantro
What you do:
Cut potatoes in half and boil for a few minutes, until fork tender.

Remove from boiling water and let cool for a few minutes.  Toss in olive oil, garlic powder, salt and pepper. Place skin-side-up on parchment or silicone-lined baking sheet. Gently press down each potato with a potato masher until about ½-inch thick.

Bake 30 minutes, turning potatoes halfway through cooking, until potatoes are browned.  I broiled mine for a few extra minutes to get them nice and crispy.  

Let cool slightly before topping with ranch dip, tomatoes, avocado and cilantro and a sprinkle of salt.




ENJOY!  Watch them disappear.
I adapted this recipe from the Produce for Kids website.  They have so many amazing recipes and tips and ideas.  Check them all out here.
Don't forget that Produce for Kids has teamed up with Meijer to help raise funds for Jump with Jill.  Simply shop at your local Meijer and find the Produce for Kids logo next to the brands that are participating in the campaign. Check out all the participating brands below!  They are great.
Disclosure: This post was sponsored by Produce For Kids. All opinions are 100% my own.