I am super excited to introduce you to our newest contributor here at A Bird and A Bean!  Her name is Marie and she is just great.  She's a former TV reporter and magazine editor and she now enjoys blogging about saving money, recipes, personal finance and budget travel!  I love all of those things.   She cooks the most delicious looking HEALTHY recipes for her little boy.  That means mostly fresh, easy to assemble or make-ahead, and substitution-friendly.   🙂  Take it away Marie!
Pasta with Broccolini Calabrian
Pasta is the Little Black Dress of food to me; you can accessorize it any way you like for family, comfort food or company. To me, the less fussy, the better. Fortunately, it's easy to health-ify it with fresh veggies, and I often look no farther than southern Italy for my inspiration. This dish is adapted from one that's native to the region of Calabria – the "toe" of Italy's boot. The original dish calls for broccoli, raisins and sunflower seeds to add interest to the tomato base, but I've updated it with broccolini, dates and pine nuts. The whole family loves it and it only takes 20 minutes from start to finish.
As with all my recipes, I add adaptations in parentheses for the quickest preparation.
Pasta with Broccolini Calabrian
This is a super-healthy main dish with unexpected flavors. The kids will love it!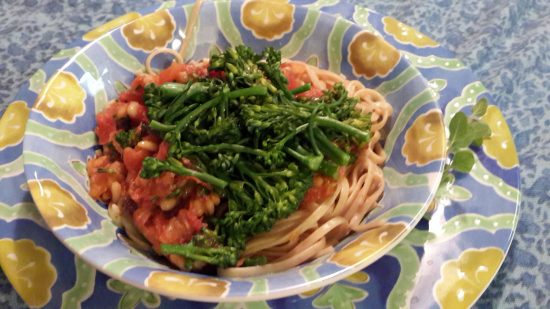 Assemble your ingredients in advance to make preparation quick and easy.

Slice tomatoes into strips and set aside.
Steaming the broccolini brings out the green color and makes it fork-tender.
I cut my dates with scissors. Their sweet, caramel goodness balances the acid in the tomatoes and tastes heavenly.
Sauté the tomatoes until the liquid is reduced, then add the dates and nuts.
This recipe tastes like springtime to me with its freshness and simplicity. The recipe is below if you want to try it. I've included the fresh version and the no-time-to-cook substitutions in parentheses.
Pasta Broccolini Calabrian
Ingredients:
1 large bunch of broccolini, washed and trimmed

2 teaspoons mild-tasting oil like safflower or avocado

3 large cloves garlic minced or pressed (or 1 t jarred)

2 lbs. ripe tomatoes, cut into strips (or 1 16-oz. can diced tomatoes)

4-5 Medjool dates, pitted and chopped (or 1 small box raisins)

1/3-cup water or vegetable broth

¼ cup pine nuts (or sunflower seeds)

2 T minced parsley (optional)

Whole wheat pasta, cooked
Preparation:
Slice the tomatoes and set aside. Steam the broccolini until bright green and tender, about 10 minutes. Set aside.

Start the water for the pasta.

Heat the oil in a saucepan on medium heat and sauté the garlic until it begins to turn golden.

Add the tomatoes and simmer for 5 minutes uncovered, stirring frequently.

Add the nuts and chopped dates and sauté for another 5 minutes.

Add water or broth and heat through, about another minute.

Drain pasta, top with sauce and broccolini. Serve with fresh, minced parsley, if desired. Serves 4.

Variation: You can also add cooked, diced chicken breast to this dish. Just toss it in with the dates and nuts.
Cost breakdown
(Purchased at Publix, Palm Harbor, FL; sales and farmer's market prices would reduce ingredient prices significantly, as would having dates and nuts on hand)
1 box whole wheat pasta $1.79

1 bunch of broccolini: $3.49

1 bag pine nuts $6.99/8 oz. (used only ¼ cup)

1 pkg. Medjool dates $5.99 (used 5)

2 lb. tomatoes $7.58

1 head garlic $.39 (used two cloves)
Total: $18.23.
Cost for 4 servings: about $4.50 each
Marie Hickman is a writer specializing in money-saving ideas, cooking, crafts and travel. She is a contributor to Valpak.com and other websites devoted to fun, frugal living.
Follow her on Twitter at @MrsHickman777 and on Behind the Blue. She and her family live in Palm Harbor, Florida.