This is a Sponsored post written by me on behalf of American Frozen Foods Institute and the Frozen Food Roundtable for SocialSpark. All opinions are 100% mine.
This summer is so busy. I don't know why this summer seems so much busier than other summers, but we are constantly running around. Maybe it's because the kids are getting bigger. I almost look forward to the school year so I can slow down! ha!
Between swim lessons, VBS, birthday parties, guests, cookouts, water parks, Fourth of July, and vacations, I feel like we are never home. It's fun being busy. I like it. But, it's also sometimes hard to incorporate meals into our busy summer routine since it always changes. I hate to eat out all the time. Having frozen meal options ready and available in our freezer really helps us out. No prep. Simple and tasty.
Frozen. How Fresh Stays Fresh!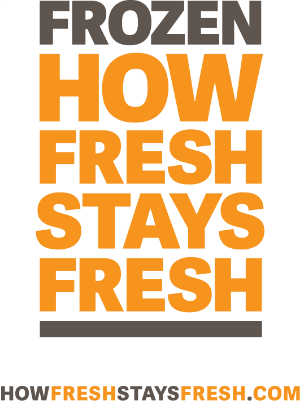 Freezing is how fresh food stays fresh! I love having frozen meals on hand. My freezer is packed with homemade freezer meals and handy frozen foods. There are so many benefits of frozen foods. Freezing naturally pauses recipes made with fresh, quality ingredients and suspends them there until the moment you're ready to enjoy them. It locks in the freshness, flavor and nutrients.
Frozen food is made from real recipes and real ingredients. Freezing is just a natural pause button that keeps your food at the peak of freshness. So, fresh vs frozen, fresh stays fresh.
On our way out the door for VBS or swim lessons I love making simple waffle sandwiches with Kellogg's Eggo waffles, and Morning Star sausages. I add an egg and some grape jelly and wrap them up in foil for a tasty, hearty on the go breakfast. The kids love 'em!
When we get home from swimming the kids are RAVENOUS. Seriously, what is it about the water that makes you so hungry? They love it when I give them a lunch of Heinz Bagel Bites and veggies. It's their favorite lunch. And it only takes me minutes to get on the table.
We've had our fair share of summer thunderstorms. And we LOVE to have a family movie day when it rains. And one of the most loved movie snacks around here is General Mills Totino's Pizza Rolls. Seriously, they disappear! Those things are so stinking good.
And my favorite way to enjoy frozen foods is…. pie!! The Edwards Key Lime Pie from Schwan's is AMAZING. And I love that there are only two pieces. Perfect portion control and sorry kids, since there are two pieces, we wait until you are in bed to enjoy them! 🙂 Mwahaha.
Fresh is fantastic! What's your favorite frozen food? Pie, right?