This is a Sponsored post written by me on behalf of CHA! by Texas Pete for SocialSpark. All opinions are 100% mine.
We love chicken salad. And we love Asian flavors. So this recipe is always a huge hit in our house. We eat it for lunch, dinner and leftovers. It's a great dish to entertain with and even take to a pot luck. It's perfect. The flavors are so great together. Crunch from the cabbage and wontons and CHA! by Texas Pete makes it perfectly spicy and tangy because It's not just a condiment. It's an ingredient! My whole family loves these chicken salad tacos. They come together so quickly. It's such a simple recipe and a crown pleaser.
What you need:
1 TBS Texas Pete CHA!
1 TBS sugar
1 TBS rice vinegar
1 TBS coarse mustard
2 teaspoons soy sauce
1/2 cup of mayonnaise
1 teaspoon sesame oil
2 teaspoons fresh ginger, grated
4 cups of red cabbage, shredded
3 cups of green cabbage, shredded
1 red bell pepper, thinly sliced
1/2 cup of cilantro, chopped
1 cup of fresh corn (or canned or frozen)
2 green onions, sliced
4 cups of cooked chicken, shredded or chopped
small flour tortillas
wonton wrappers or wonton strips
What you do:
Prepare dressing by whisking together the Texas Pete CHA!, sugar, vinegar, mustard, soy sauce, mayonnaise, sesame oil and fresh ginger. Set aside.
Prepare chicken salad by stirring together red and greed cabbage, bell pepper, cilantro, corn, onions and chicken.
Toss the chicken mixture with the salad dressing.
Serve in a flour tortilla with wonton strips on top.
If you can't find wonton strips, you can easily make your own by quickly slicing up some wonton wrappers and frying them in oil until crispy.
Hint: You can easily peel ginger with the back of a spoon before grating. SO EASY!
Hint: My wonton wrappers are by the tofu at my grocery store. (I buy them for homemade cheese sticks sometimes. They also make great homemade ravioli.) I was going to just slice them up and fry them for the topping on these tacos. I knew they would add a nice crunch. Then I decided to look for the wonton strips that people sprinkle on salads. Then the work is already done. But, it took me forever to find the wonton strips. I looked in the isle by the croutons. NOPE! They are above the fresh salads and greens in my grocery store produce section. Who knew?! Now you do. Maybe they are in the same place at your store?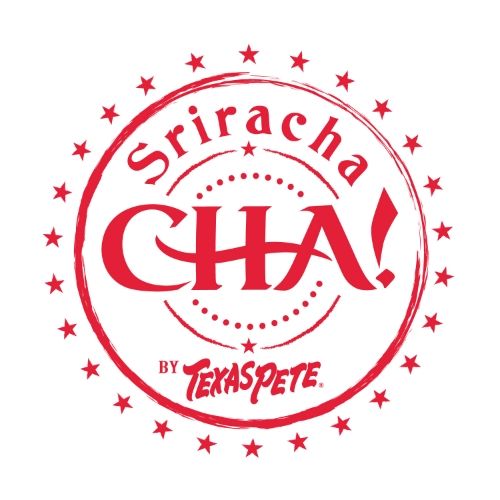 Texas Pete hot sauces have been a staple in the south for decades, and are now gaining popularity nationwide and in other coutries. CHA! by Texas Pete is available in most supermarkets, and you can always buy it on TexasPete.com, too.
Would you like to win a CHA! gift pack so you can make your own Asian Chicken Salad Tacos? YEAH! Just leave a comment on this post telling me your favorite recipe idea for CHA! by Texas Pete.
If you like this recipe you can find even more tasty CHA! Recipes at CHAddiction.com.