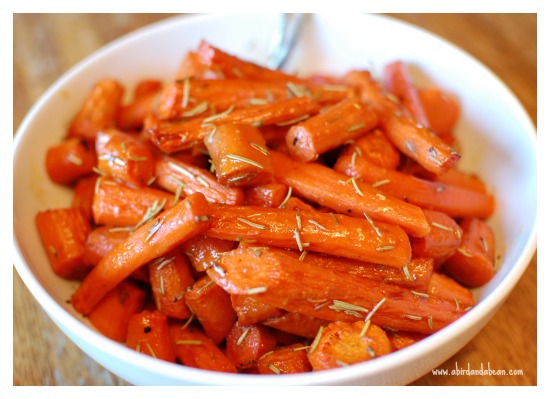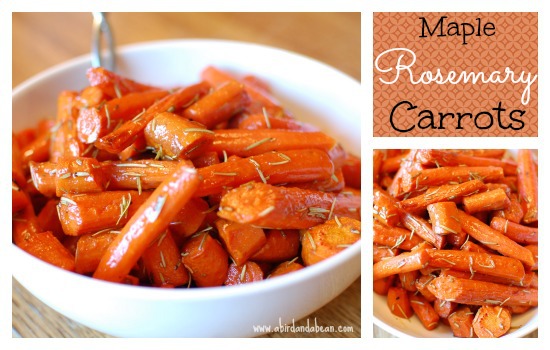 This recipe for Roasted Maple Rosemary Carrots is perfect for any old night of the week. They make a delicious side dish for any meal and they're also great for company and entertaining!  Maple Rosemary Carrots are great to bring to a potluck, and even to fancy enough for Thanksgiving dinner.
They are tasty, pretty and orange.  Sweet, savory and festive.  Healthy, quick and inexpensive.  I like mine still a little bit crunchy in the middle.  But the bird and the bean like them really soft and (over) cooked.  Silly kids.  Which ever way you like them….these babies are great.
Even if you don't think you like cooked carrots, you should give these a try.  They are a crowd pleaser.
Roasted Maple Rosemary Carrots
Author:
Prep time:
Cook time:
Total time:
Maple Rosemary Carrots are the perfect side dish for any meal. They are savory, sweet and delicious.
Ingredients
2 pounds carrots, peeled
2 Tbsp butter
1/3 cup maple syrup (do yourself a favor and use the real stuff, not Auntie J.) 😉
2 Tbsp Rosemary
1 teaspoon whole grain mustard
Salt and pepper to taste
Butter and rosemary and sea salt for top at the end.
Instructions
Preheat oven to 425 degrees.
Line a baking sheet with foil or parchment paper and spray with cooking spray or drizzle with olive oil; set aside.
Peel carrots, and slice into thirds. You want the carrots to all be about the same size. (Some of them I half down the middle longways to match the thinner ends.) Add carrots to a bowl; set aside.
In a microwave-safe bowl or saucepan, combine butter and maple syrup. Heat until butter has melted and liquid is warm. Add the (fresh or dried) rosemary and mustard. Stir.
Pour mixture over carrots.
Mix together until the carrots are covered with the maple syrup mixture.
Place carrots in a single layer on baking sheet and sprinkle with salt and pepper.
Roast for 10 minutes then flip the carrots and cook for 5 to 10 minutes more (or until fork tender.)
Note: Cooking time depends on how thick you cut your carrots and how soft you like them.
Place carrots in a serving bowl and add 1 tbsp. of butter, a dash of salt and a sprinkle more of rosemary.
Serve.
Enjoy!