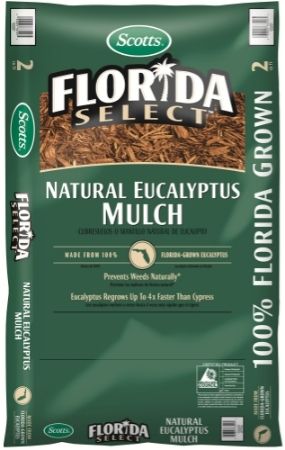 My yard needs some help.  I can't wait to get out there and do some serious work on it.  But since it's like 40 degrees and rainy out there right now, it will not be today!   🙂  But, it will be soon!  On my list of things to get for the yard…..veggies for the garden.  I think we're going to go with lots of tomatoes, cucumbers, peppers, squash, basil, cilantro, rosemary, pumpkins and watermelon.  Of course, I forgot to start seeds, so I'll buy plants from the high school greenhouse, again!  : ) Yay for sustainable gardening!  🙂  We also need some gardening supplies, a few shrubs (i'm thinking boxwood) and I would like some really, really tall ornamental grasses….or a privacy fence.  😉  (thanks, slacker neighbors.)  I also need to split and move some hostas around.  Mulch is on the list too, for sure.  
I love the way yards looks with nice fresh mulch.  This year I'd love to try Scotts Florida Select Natural Eucalyptus Mulch.  It's sustainable, natural and effective.  It's made from 100% Florida plantation-grown Eucalyptus trees.  And it's renewable resource because Eucalyptus grows 4 times faster than Cypress.  Mulch prevents weeds naturally while helping conserve soil moiture and temperature!
Just spread mulch 3 inches deep to control weeds and moiture and make your yard look fantastic.  Apply around trees and shrubs, flowers and veggies after seeds have germinated and plants have developed.  
One 2 cu. ft. bag of mulch will cover between 8-12 square feet of bedding area.  
I really like the way black mulch looks.  Although, this Deep Forest looks nice, too.  
SInce I don't live in Florida, I will stick with the Scotts Nature Scapes mulch.  It comes in 3 different colors: Classic Black, Sierra Red, and Deep Forest Brown and they're natural forest products – no waste wood and come in a variety of textures. Scotts Mulch helps to maintain moisture, prevent weeds, and create a groomed landscape all year long.  Sounds great, right?
Check out these pretty yards.  I just love black mulch.  I wish these yards were mine!  
All photos are courtesy of Yard Designs LLC.
This post brought to you by Scotts Miracle-Gro. All opinions are 100% mine.