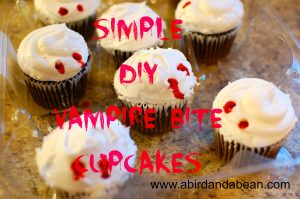 I pinned the cutest Halloween cupcakes on Pinterest recently.  Then, I followed the link expecting to find some instructions and it lead me to a bakery in Australia selling adorable jelly filled vampire bite cupcakes!!   I'm sure they're delicious, but I figured the shipping might be a little steep to get them here for my Halloween party, so I decided to do it myself!  And all without baking a single cupcake.  🙂  (since I do NOT love baking)
What you need:
store-bought cupcakes (of course you could make your own – red velvet would be fun!)
red food coloring
a chopstick
What you do:
Dip your chopstick in a glass of water.  Stick the wet chopstick into your cupcake, making a little vampire tooth sized hole.  Dip your chopstick back into the water.  Again, stick the wet chopstick into the cupcake about a fangs width from the first hole.  (see where this is going?)
Drop about 20 drops of red food coloring into a small bowl.  Dip the tip of your chopstick into the food coloring.  Gently touch your food coloring coated chopstick onto each of the holes in your cupcakes.
Done and done.
It's such a simple way to make store-bought cupcakes look fun and fancy for Halloween.  These would be great for any Halloween party.  I loved them!  You could even send them to school with the kiddos.  They make an impressive looking treat, with very little effort!  The perfect kind of treat.
Happy Halloween!