I was invited to try Favorites Steak & Pasta at Belterra Park with a few bloggers a bit ago and I was so impressed!   Have you ever been to Belterra Park?
What a place!  There are a few amazing restaurants at Belterra and Favorites is the fanciest one!  It's swanky.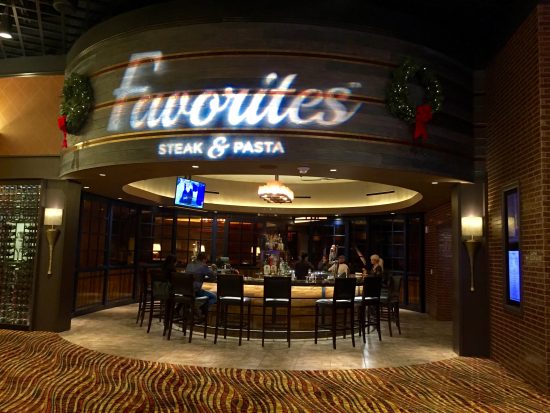 It was a really fun evening with friends and out-of-this-world food.  Favorites boasts a great bar and fabulous views of the race track because it's located in the back of the park and gaming section.
They have lots of comfortable seating through out and there's also a fantastic private room which is perfect to reserve for parties.  Imagine your fancy-shmancy, private party overlooking the race track.  That's a fun party!
When we arrived, we got to meet the Chef and he was such a pleasure.  He introduced the all appetizers and dishes and desserts with such passion. You can tell he takes serious pride in the food.  And for good reason.  Everything was spectacular.
We started of our fancy evening with a fancy appetizer of bacon and avocado on a little toast.  He had me at avocado.  And bacon.  So good.

We enjoyed the fresh bread basket with salted butter and olive oil while we checked out the menu.
Um, then he brought out a lovely antipasti of cured meats and…..the burrata.  The bur-what-a, you ask?  Yeah, that's what I thought, too.  It turns out that burrata is a fresh Italian cheese made from mozzerella and cream.
Sounds simple, right?   It did not taste simple.  The outer shell is solid mozzarella, while the inside is creamy and soft.  The word burrata means "buttered" in Italian.  Now, don't you feel smart?  The more you know.  (Also, spell check wants to turn burrata into burrito every single time.)  🙂
Onto the rest of the meal.  I chose the Ceasar Salad  with crunchy hearts of romaine, delicious creamy caesar dressing, tangy shaved pecorino, and my favorite part….the fishes!  Little white anchovies!  My kids will seriously love that part.  So salty and good.  I love Caesar salad, and this was the real deal.
We all shared the sides and a few main dishes family style, because we just couldn't choose and wanted to taste it all!  I highly recommend this method of dining.  They offer most things in a "tasting" and "sharing" portion.  I love that!
We found out that the Nana's Spaghetti and Meatballs is actually the chef's very own, real-life NANA's family recipe!  It's a secret recipe of hand rolled veal, pork and beef meatballs, Parmesan Reggiano, and a delicious marinara sauce.
And it's all served with FRESH HANDMADE PASTA.  I'm sorry for yelling, but I was so excited to learn that every pasta on the menu is made FRESH!  It's fresh pasta people!  You will never want to eat dried pasta again.  Fresh pasta is serious business.
The house-made fresh cavatelli pasta with house-made crumbled Italian sausage, broccoli rabe and white beans was a favorite of the table.  It's also a family recipe!
Can you believe there are all these handmade Italian family recipes (with fresh pasta) being served at a place so close to you!?  I was so surprised to learn it.  And I can't wait to go back.
Then there was Mac and Cheese made of aged cheddar, fontina, parmigiano-reggiano, mascarpone, FRESH cavatappi and herbed bread crumbs.  Oh my goodness.  There are no words to describe.  I couldn't stop eating it.
The Tuscan Kale and Spinach Gratin was so creamy and delicious with nutmeg & parmesan cream, topped with buttered breadcrumbs.  Oozey, cheesy goodness.
Gotta have a little green after all that.  The Broccolini with shallots and garlic was perfectly tender.
Oh wait.  There is still a steak!  The Prime Aged Beef.  The star of the show.  All of their prime beef is aged for a minimum of 38 days!  I went with the New York cut and it was perfect meaty goodness.  So much flavor.  And so much meat.  I took most of it home and enjoyed it again the next day.  It's served with a head of sweet roasted garlic.  Mmmm.  I am not usually much of a "steak" girl.  I like sides more.  But this was fantastic.
Oh, it's not over yet!  Buckle up for DESSERT.  (Check out this dessert action shot!)
 The trio of lovely confections that were brought out and put before us was heavenly.  Chocolate Lava Cake, Lemon Blueberry Cheesecake and a Creme Brûlée with a side of sorbet and shortbread!  What?!  The shortbread cookie I saved to enjoy with my coffee the next morning.  AMAZING move.  It was perfect.
So, the mouth watering dishes I've mentioned here are just a small sampling of the amazing selection on the menu at this place.  And there is something for every budget.
I was so surprised that the food at a restaurant in a casino was this outstanding.  People don't go to casinos to eat.  Do they?  Like, that's not really the point of a casino?  Is it?  Well, it is now.  Because I've told everyone I know how fresh and delicious the food at Favorites is.
 Go for the food, and stay for the fun.  Not the other way around!  I can't wait to go back!