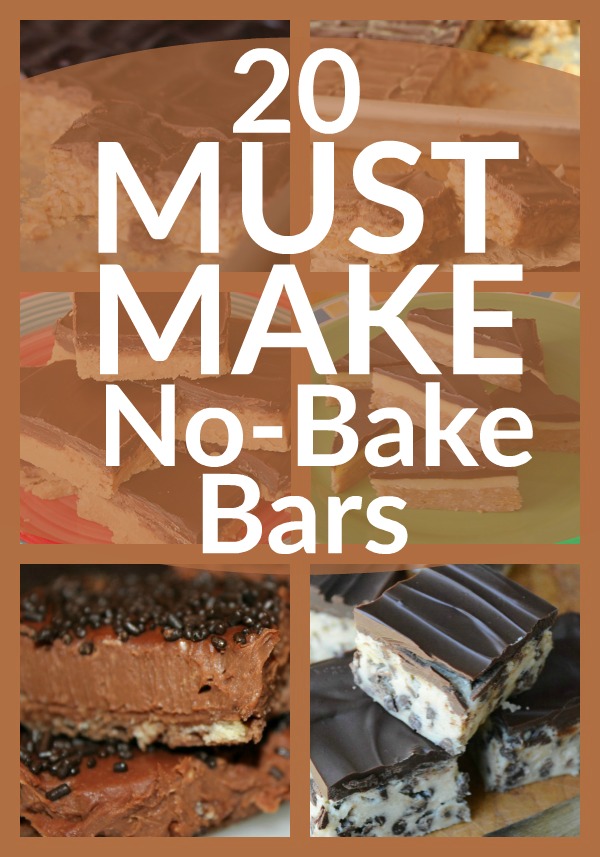 Anyone who knows me, knows that I HATE TO BAKE!  It's so exact and never turns out right for me.  Even the tube of refrigerated cookie dough gets ruined in my hands.  🙁  So, I love. LOVE. love. no bake desserts.  Check these out.  20 Must Make No-Bake Bars.  They are amazing.  And then you can get busy not baking.
1. No Bake S'mores Bars | Source: Mission: to Save
2. Chocolate Mint Nanaimo Bars | Source: Cook Crave Inspire
3. Easy No Bake Peanut Butter Chocolate Bars | Source: How Was Your Day?
4. Peanut Butter Bars | Source: Amanda's Cookin'
5. No Bake Cranberry Nut Cookie Bars | Source: Homemaking Hacks
6. No Bake Peanut Butter Corn Flake Bars | Source: Ann's Entitled Life
7. No-Bake Chocolate-Coconut Peanut Butter Bars | Source: Two Healthy Kitchens
8. No Bake Chocolate Cheesecake Bars | Source: This Mama Loves
9. No Bake Dark Chocolate Ritz Bars | Source: Homemaking Hacks
10. No Bake Peanut Butter Bars | Source: A Mom's Take
11. No-Bake Peanut Butter Pudding Bars | Source: Amanda's Cookin'
12. No Bake Chocolate Cheesecake Bars | Source: Ann's Entitled Life
13. No Bake Peppermint Pretzel Bars | Source: Homemaking Hacks
14. No Bake Chocolate Chip Cookie Dough Bars | Source: The View from Great Island
15. No Bake Cheesecake bars | Source: Jade Louise Designs
16. No Bake Vanilla Almond Butter Buckeye Bars | Source: With Salt & Wit
17. {No-Bake} Funfetti Cookie Dough Bars | Source: Chelsea's Messy Apron
18. No-Bake Carrot Cake Cream Cheese Bars | Source: The Lean Green Bean
19. Cookies & Cream No-Bake Chex Bars (Gluten-Free) | Source: Iowa Girl Eats
20. No Bake Pumpkin Cheesecake Chocolate Bars | Source: Homemaking Hacks