My parents decided that for their 40th wedding anniversary they wanted to take the whole family to Anna Maria Island, Florida for the week.  WHAT?! YES, PLEASE!
It was just awesome!  It was the kid's very first trip on an airplane and their first trip to the ocean!  What a great gift. What great parents! We had a blast.  A truly unforgettable trip.
I have a great list of things to do that I will be posting soon, if you ever make it to Anna Maria Island.  Which I highly recommend.  We are already making plans to go back!
We definatly ate our way through the entire island and beyond.  There are just so many great choices.  One of those not-to-miss, is called The Beach House.  It was recommended by some friends of mine, that don't even stay on Anna Maria Island, but 30 minutes away!  They drive to The Beach House to eat anyway, because as they said, "It's our favorite restaurant in the whole world."  So, I knew I had to try it out.  We decided this was the place we would celebrate my parent's anniversary.
The Beach House is one of three waterfront restaurants owned by the same group and now I need to go back and try the other two.  You know it's good when it's a favorite of both the locals and the returning tourists.
The Beach House was the perfect choice for our big night out.  It's located on the South end of Anna Maria Island, just west of the quaint Cortez fishing village in Bradenton Beach. It's perfect for families, with plenty of room for kids to play on the beach.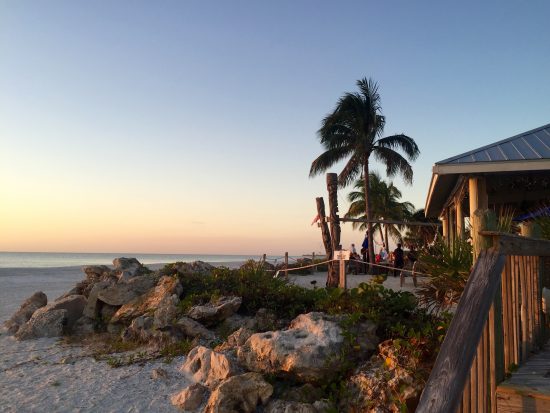 We enjoyed the most beautiful sunset while we sipped our cocktails.  I can see why it's such a popular venue for weddings.  The setting is super romantic and gorgeous.
It's the perfect setting for a family picture!  Don't we look beachy?!
The menu is just as impressive as the view.  The superb quality of all of the produce, seafood and ingredients made it so hard to choose.
Chef Will Manson is passionate about serving local and sustainable products.  They even have their own farm called Gamble Creek where they get most of the produce they use in the dishes.  They take "farm to fork" seriously here and the chefs personally pick the produce to ensure freshness.  You can taste it.
I love supporting businesses that have a mission of serving sustainable and locally sourced items. It's just better for everyone!
We started with an array of delicious appetizers.  They were all amazing. Local Sunray Venus Clams, Fried Calamari, Hog Thais (wild local hog wrapped in Bibb lettuce with pineapple & peanut sauce), Land Lover Bruschetta (pineapple, BBQ, pancetta, onion, basil and goat cheese) and of course, the "Soon to be World Famous" Hush Puppies (homemade, rustic with chunks of corn, onion, and a kick of jalapeño).
They were all devoured, but I think the clams and the hush puppies were my favorite.   The clams are steamed in white wine and chicken stock and served with chipotle sausage and garlic butter.  So good!
Delicious local Sunray Venus Clams.
And then, our dinner came!  Oh man.
We shared everything because we all wanted to taste everything!  Gotta love family style!
We tried so many delicious dishes.  The Seafood Trio was a big favorite.  It's a baked stuffed grouper with sea scallops, stuffed shrimp and veggies!  We also passed around the Mullet Fingers (a fabulous and healthy, under-rated local catch), Wild Boar (an amazing, wild local boar dish served with potato cakes and kale), Veggie Risotto (mushroom farrow risotto with roasted veggies), Crab Cakes made with blue crab and served with fried green tomatoes (my favorite)!
I ordered the Tile Fish which was delicious.  It's served with a lovely (but spicy) Argentinean Chimichurri sauce.   The Seafood Capellini was my husband's favorite.   It was fresh gulf shrimp, scallops, fresh fish, lobster, and clams all simmered with a lovely sherry lobster cream, basil, & sundried tomato pesto.  Yes.  Seriously.
The Seafood Trio.
Blue Crab Cakes.
The amazing Seafood Capellini.

Wild Boar (above) and Mullet (below).

I truly blessed to have such awesome parents.  They are amazing examples of God's love.  They are generous givers and they love and support us. They are mentors and friends.  I am proud to be their daughter and so thankful for their 40 year marriage.   We had the perfect trip and made a life time of memories!   Plus, how cute are they?!
And if you find yourself anywhere near Anna Maria Island…be sure to check out The Beach House!