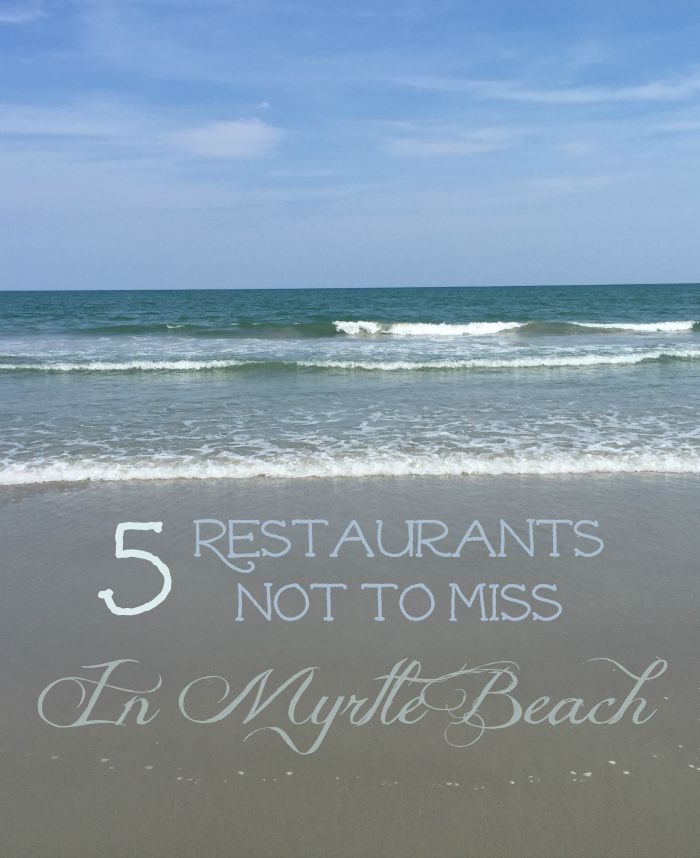 When you visit Myrtle Beach, you know you're in for a relaxing and amazing vacation!  With over 60 miles of beach and so many great attractions and places to visit you are going to have a fun trip.
But where should you eat?  Myrtle Beach was named one of the top ten cities with the highest number of restaurants per capita!  With over 22,000 restaurants you have a LOT OF choices!  You probably can't go wrong with any of them (hello fresh seafood) but here are 5 places that I have actually tried and absolutely LOVED.  They all have very interesting menus and amazing fresh food.
1. Croissants Bistro & Bakery.
This Myrtle Beach restaurant has been welcoming guests for nearly 20 years!  They serve fresh seafood and steak dishes in a casual fine dining atmosphere.  They have homemade soups and sandwiches at lunch with breakfast items served until 4pm.  Brunch is available on Saturdays and Sundays.  It was really hard to choose, but I had the "Pimento and Fried Green Tomato Melt" and it was perfect.  It's served on sourdough bread.  I finished the meal with a delicious French Macaroon.
They also have a popular cookbook called "Bounjour, Y'all" which encapsulates the restaurant's elegant pairing of Southern home cooking and European cuisine.
2nd Ave Pier is a Grand Strand landmark!  It's one of Myrtle Beach's original destinations, built in 1936.  Take a stroll on the pier or grab a pole and do little fishing while you're there, but don't miss the Pier House Restaurant.  It's has a lovely open-air bar and the best view on the beach.
Not to mention the food.  Oh my.  Low Country Egg Rolls, Fried Green Tomatoes, Bacon Wrapped Shrimp and Crab Cakes to start!  I chose the Shrimp and Grits as my main course, and I kind of don't want to eat anything but this dish for the rest of my life.  Large pan seared shrimp over cheesy pepper jack grits with country ham and red eye gravy.  Yes.
This place was so fun!  They have amazingly creative, scratch-made, southern food and drinks.  It's located at beautiful Market Common, minutes the beach and the entire Grand Strand.  I wanted to eat everything on the menu.  The warm pimento cheese and house made tortilla chips were delicious. The biscuits, to die for.  We had the country ham wontons and shaved honeyed Brussels sprout salad.  Genius.  The Rosemary-Peach Lemonade was fantastic!
I had The Queen Mary, a crazy, giant Bloody Mary with okra, pimento-cheese stuffed olives, grilled shrimp, bacon and tons of veggies.  It was a fun indulgent drink for my birthday!  We also tried the Buttermilk Fried Chicken on a Sweet Potato Pancake.  Hum.  Yes.  Divine.
4.  Wicked Tuna
Wicked Tuna is directly on Murrells Inlet's celebrated Marsh Walk.  It gorgeous!  It's  a unique culinary experience with innovated cuisine and excellent service.  This was my birthday dinner and the chef himself came out with a real fish and a candle to sing  So fun and crazy!
I had the Stuffed Flounder Stack.  Local flounder stuffed with lump crab, mushroom and spinach, topped with a sundried tomato and macadamia crust on a bed of rich parmesan cream.  Oh my gosh.  So good.
Wicked Tuna is obsessed with fresh fish.  The fishermen come right to the restaurant and the chef chooses what he likes.  They have an ice room in the basement, so you know you are eating FRESH fish.  This place it so good.  And you can enjoy a stroll on the Marsh Walk when you are finished.
Art Burger and Sushi Bar is one of a kind!  When you walk in the door there is a local artist hard at work.  Even the menus are fun!  They combine sushi, gourmet burgers, and a liquid nitrogen bar for your enjoyment.
It's a unique gem, hidden away on the boardwalk.  They serve gorgeous stacked burgers with seared buns, interesting and innovative sushi and amazing nitrogen drinks.  I had a dirty martini.  Who doesn't want to drink a smoking cold cocktail?  It was perfect.
For sushi, we tried the Fried Chicken Roll Crispy!  It was fried chicken, macaroni and cheese, with BBQ sauce.  It was great.  They have traditional sushi as well.
Have fun, eat great food and check out some really cool art.
*Travel and Accommodations were provided by Visit Myrtle Beach.  All opinions expressed are honest and 100 percent my own.