I had such a great and blessed 2014 and can't believe how fast it flew by, but I'm pretty excited about 2015, too!  There is just something about fresh starts and new beginnings that I love.
And I'm making my list of resolutions for the new year.  One of them is to go through this devotional and 30 Day Challenge with my kids!
"The How to Manage Your Mouth 30 Day Challenge."
This ebook includes 30 scriptures on controlling the tongue, which I know I need (and since my kids watch me….they need it too!!)  The author gives examples of what the scriptures would look like in daily life, and includes some dialogue that might occur between siblings or friends.
Each lesson is short, intended to take 10-15 minutes to complete, and focuses on the scripture of the day.  She wrote this with her own kids, ages 7 – 13, in mind, and it includes printable pages with dotted lines for copying the scripture!  I love this.
These ebooks are an excellent devotional to begin for New Year's resolutions!  And you can get them half off through the 31st.
(Use the code "HALFOFF" at checkout to get 50% off the regular price.)
This 30 day challenge can be used for 30 consecutive days, or if you wish, 5 scriptures a week for a unit of 6 weeks, or even one scripture a week for a 30 week unit.
The author used the same scriptures, in the same order, as the adult version so we can participate in the challenges right along with the kids!   I can't wait to get started.
Both ebooks in a bundle are only $9.97.  
Or you can get them for half off until December 31st.  
Gotta hurry!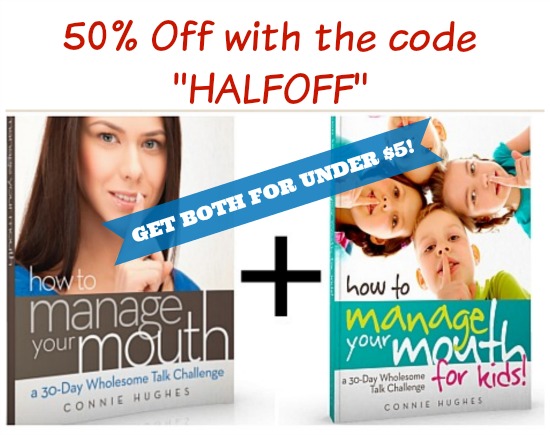 How to Manage Your Mouth in 30 Days is a great having an end of the year flash sale!
You will be able to get both the adult and the children's version for 50% OFF through December only.  That is only a few days!  Click here to check it out.
I honestly think the books are definitely worth 9.97 if you miss the sale!  🙂  I mean, starting the year out right for under 10 bucks!? But you might as well save half!  😉
Happy New Year!
This post contains affiliate links.