This post may contain affiliate links. For more information, visit our disclosures page.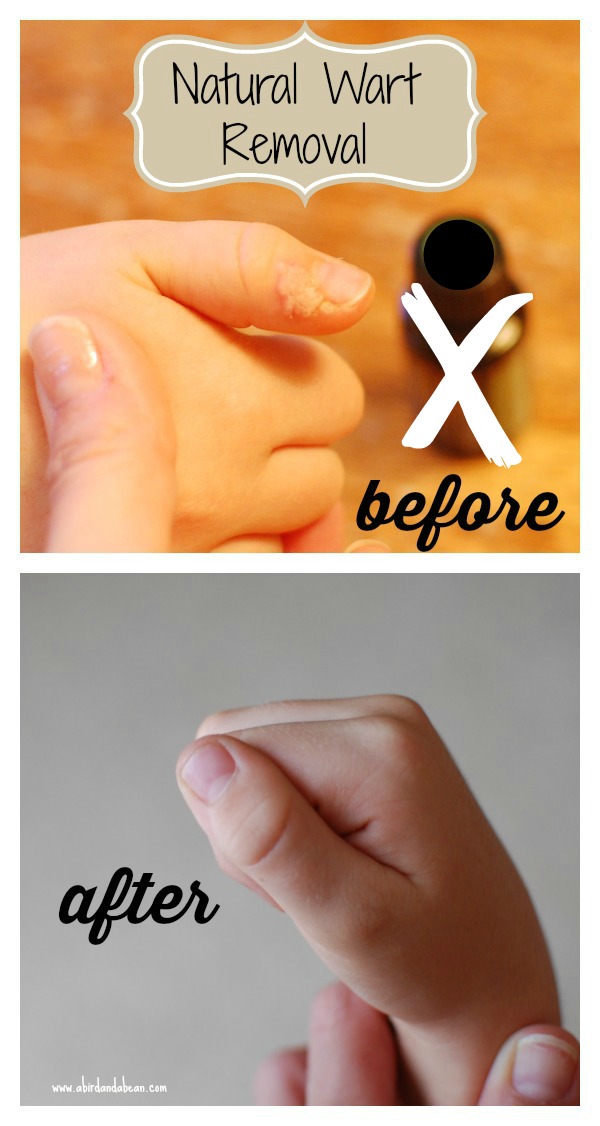 I am so excited to share this natural and effective wart removal with you!  I've been sitting on it for a long time, because I wanted to make sure that it worked.  Like, really worked.  AND IT DID!
When my son, the Bean, was 2 he had pneumonia and we had to be admitted to Children's Hospital for a few nights.  Now, I can't be sure, but I think that all of the antibiotics and medicine they gave him messed with is immune system, because soon after that he got a huge wart on his thumb.  HUGE and clustery!  I know warts are caused by a virus, so he must have gotten it somewhere.  It's just my theory that it has something to do with being so sick and so little.  But, whatever the reason…..this wart was huge and nasty and I couldn't get rid of it.
He had it for a full year.  It was enormous.  I guess it could have seemed so big in relation to his little thumb, but the sucker was big.  It would crack and bleed when he would color.  He picked at it.  Boo.  I hated it.
I tried all of the over-the-counter things to freeze it away and all the fancy band-aides with medicine on them.  I tried about 4 or 5 OTC products.  Nothing.  Not even a bit of a change.
So.  My next move was to take him to a doctor to get it burned / frozen / cut off.  But, I knew that wasn't going to go over very well.  It would be painful.  (And that the virus would still be in him.)
Then I read an article that essential oils could help.  I researched which ones to buy and went online and did some shopping.  I bought them and did everything I was supposed to.
I didn't even take a before picture!  I put the oil on at bed time and covered it with a band-aide.
The next morning I forgot to even take a look.
My son took his band-aide off and exclaimed….."Mom, look at my wart!  It's so littler."  🙂
And sure enough….it had changed so. so.  so. much.  More than it had ever changed before.  It was considerably smaller after just one night!  I was amazed!   So, I snapped a picture on Day 2.  And then again after a week.  And then after two weeks!  The thing was GONE.  G.O.N.E gone after two weeks!
And now it has been a year and it is still gone!  He hasn't gotten any more, either.
Update:  I am adding this new picture of his thumbs 3 years after  (both thumbs, since I can't remember which one had the wart to begin with at this point!)
And there you have it.  Three little oils.  A box of band-aides.  No more wart.
What I used:
What I did:
I put a little bit of fractionated coconut oil (or olive oil) on my son's thumb.  *You need a carrier oil when you use Oregano because it's a hot oil.  It does feel like it burns.  Even with a carrier oil, he could sometimes feel the burn a little bit and he would whine.  I sometimes didn't use enough coconut oil.  But, he would fall asleep and it was all fine.
After I put the carrier oil on, I would drop two drops of Oregano and one drop of Frankincense on the wart and put a band-aide on.  I sometimes needed more than one bandaide depending on how much oil seeped out.
I did this for 5 days.
On day 6 and 7, I used one drop of Frankincense and one drop of Lemongrass.
On days 8-13.  I went back to the Oregano and Frankincense.
And on day 14 and 15 I did the Frankincense and Lemongrass again.
If you can still see rough skin where the wart is, I would do the whole thing one more time.
You can actually apply this through out the day, too.  I know that 2-3 times a day would be better than just at night.  But, since he was 4 at the time.  I knew keeping a band-aide on his thumb during the day was not going to happen.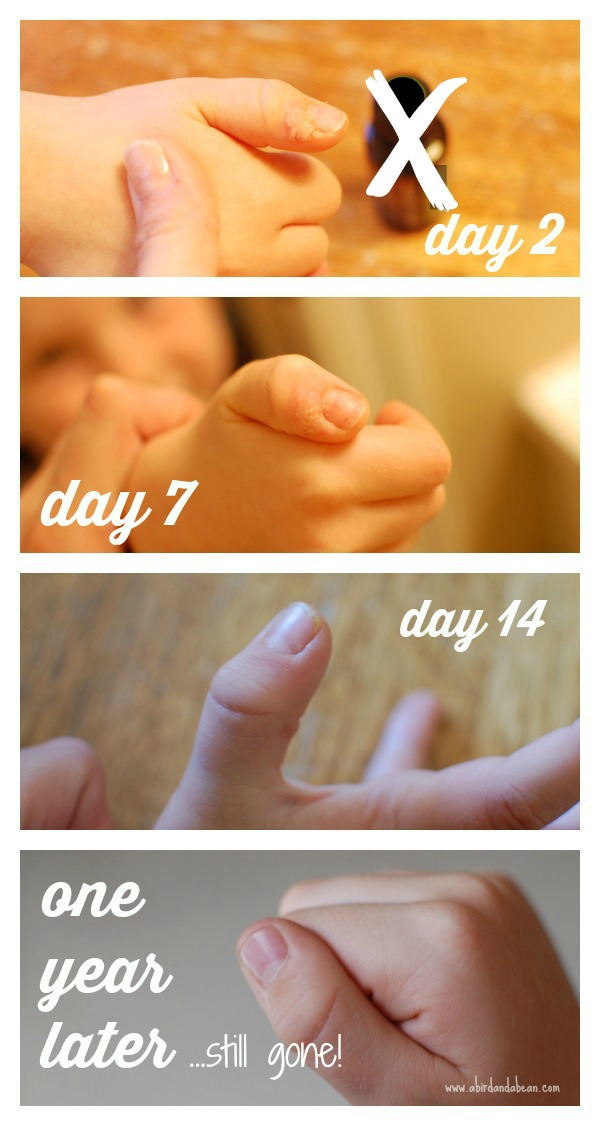 I do love the oils. I use them for everything.  Even cooking.
Please note that not all essential oils are created equal.
When you are choosing your essential oils, please know that there are different grades available.  You can find some low priced oils in your grocery store or health food store.  I have chosen to purchase Rocky Mountain Oils for my family.  They are amazing and of the highest quality.  Bonus, they are not a MLM!
Disclaimer.  For educational purposes only.  I am not a doctor.  This worked for our wart.  I make no medical claims about being a doctor or curing viruses. We are NOT providing medical advice. Always consult your physician for medical treatment. The advice shared in this page has not been evaluated by the FDA. The products and methods recommended are not intended to diagnose, treat, cure or prevent any illness or disease, nor is it intended to replace proper medical help.