Hello A Bird and A Bean fans! It's good to be back on this 2nd Saturday in May. MAY! Can you believe it's already May?!! I really can't! The months have just flown by! Since they seem to just be going so fast, I thought it would be a good idea to get a jump start on ideas for Father's Day.
I made this little album for my father-in-law last year for his birthday and he loved it!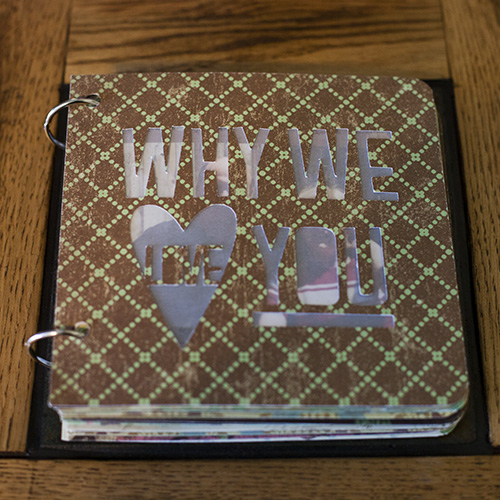 I cut out this cover on my Silhouette and glued a piece of vellum behind it.
On the first page I put a picture of my father and mother-in-law.
After the first page I then glued down pictures of my father-in-law with my kids throughout their lives. We all wrote down reasons we love him and my husband typed up some of them.
I had my 2 older boys draw pictures of the reasons they love grandpa and write them on cardstock.
I didn't embellish very much at all. I tried to keep it simple and sweet. I figured the pictures and reasons we love him would be the best part of the album.
Some pages didn't have embellishments at all. I told you, it's simple! 🙂
I kept it really simple, but you could make yours as complicated or simple as you like. My album ended up being about 25 pages long. I punched holes in the side and used rings I got at a craft store to bind it all together. You could even make it fancy and use ribbon or fabric, or you could tie ribbon or fabric to the rings! And you have a simple, easy and well loved and appreciated Father's Day present!
I hope you enjoyed this cute and easy scrapbook idea. You could even make one for your mom, too, you still have a few hours until Mother's Day tomorrow! 🙂
Thanks for stopping by! Have a great weekend!
Megan's a full-time mom and a part-time professional photographer.  When she's not busy cleaning up after 3 wild and crazy boys and hubby, she can be found holed up in her craft room making things. She loves to sew, scrapbook, make cards and create.  She blogs over at Crafty Meggy expressing her creative side in a house full of boys.  She posts all about her crafting, organizing and cleaning adventures.  
Check out Megan's other posts here.
Connect with Megan.  You'll be so glad you did!
Crafty Meggy Blog | Facebook | Twitter | Pinterest |